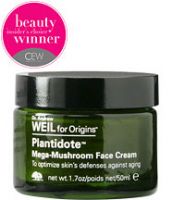 Hydrates fairly well

I think this is a lotion/cream hybrid, so it falls a little short for me. I have that very dry skin that needs a thicker formula. I thought it blended in nice but shortly after putting it on I felt dry and had to reapply in areas. After applying my tinted moisturizer I was out the door, only to notice in the car that I had some flaky areas. I can't believe they get away with calling cream these days. I get MUCH better results with Olay's regenerist cream.

Not great

I tried this in between buying more of my usual face lotion and was not impressed. It did not moisturize my skin for very long, despite the fact that it made my face appear oily for 20 minutes or so after I applied it. Im sticking with estee lauder.

Weil Yeah

This is the moisturizer I am currently using. I would definately reccomend this as a fall and winter moisture day and night treatment especially to any one with normal to dry skin! If you have oily or combo skin it may feel slightly greasy but still will make a good night cream. On the pricey side but a little goes a long way!
Back
to top