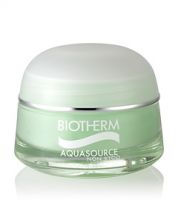 Great for dry skin, not so great for my acne-prone skin

I bought a biotherm aquasource kit, along with the matching toner and washing gel. I usually avoid "gel" based moisturizer or lotion for my facial skin. This one was definitely a transparent gel, but it was not as sticky as I expected. A small dab hydrates entire skin for long hours. Thus, my mom loves this gel. I, for one, think that this moisturizer-gel is intended for dry skin since it is rich...read more, and obviously it did not do any good on my breakouts and blemishes. One more thing I didn't find it attractive - the fragrance. I usually love ocean smell, but this gel smelled a bit harsh for me. Maybe it is just me.....

Good but not so great.

At first this was a great product in that it didnt irritate my skin, sorta reduced my redness and facial flush. IT was also moisturising. The down side of this product is that it gave me lots of small pimples around my cheeks and chin. I have been using this for like a week and a half.

It's the BEST.

I love love love love this product!!!!!!!!!! It's the BEST night gel cream I have ever used. It gives a great moisture to my skin!! I just love this product.. In fact, I just joined this website to write a review on this one.... because seriously, this works the best for me!!!!!!!!
Back
to top