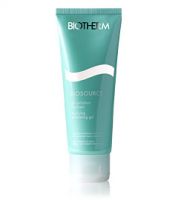 it does the job

A small amount cleans the entire face and neck without giving my skin any irritation or residue. The cleaning power is quite strong so it may not be suitable for dry or sensitive skins. I am not a big fan of the scent of this cleansing gel. It has too flowery scent for me. I wish I opened and sniffed this gel before I purchased it.

Pretty good

Every time I try an exfoliator, there's never enough "scrubbies" or it's too harsh. I enjoy this one. It has the perfect amount of "scrubbies" and it's not too harsh on your skin. The only downfall, it leaves your skin a little dry afterwords.

just what face wash should be

Face wash can never be crazy good, the way an amazing moisturizing can be. All it can do is its job, which is to get you clean without leaving behind residue or making you break out, or drying out your skin too much. And that's what the Biotherm cleansing gel does. This has been a staple for me for years and years, and no matter how my skin changes from season to season, it always gets the job done.
Back
to top