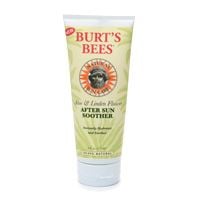 Smells good and light

Love this moisturizer! it's light and smells really good. I use it all year round, not just for after sun

Subtley Effective after Sun

I have been using this product for the last 3 months and I have still have about 30% left. This is the only moisurizer I apply after washing my face. The texture and tone of my skin is so much smoother and evener. Unlike applying just aloe, you don't get the sticky effect after the soother dries. it's a nice to apply singly on summer nights.

It smells.

I am a Burt's Bees customer big time. Unfortuntly I don't like this it stinks and is greasy. I couldn't wait to use it up. Not one I would recommend. If this is the first lotion you try you won't like Burt's Bee. Try something else. I love all the others except the Orange which is like WAX. Would not recommend this. Try the Sensitive Skin with Aloe.
Back
to top