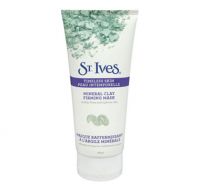 Editor's Rating & Review
I use this simple kaolin clay mask sometimes when I'm home alone, puttering about in my PJs. It lacks a noticeable scent or exfoliating elements, but it soaks up oil effectively. After 10 minutes, skin feels dry and super-taut. Whether the spackle-like mask deep cleans, lifts away dead skin cells and stimulates collagen is debatable, but a good, warm rinse leave cheeks firm and smooth. Dry skin types, beware. This may be too drying.
Reviewed by Charli on 09/27/2007

How we review products
love this

dries fast and absorbs tons of oil, and the caffiene really takes down the all over puffiness i tend to accumulate in the summertime. i cant say its too firming or anything, but i like the way it makes my skin feel.

St. Ives Mineral Clay Firming Mask

product quality,

Awesome stuff!

I really love St. Ives products, especially because they don't test on animals. This firming mask is really great and it's very affordable as well. This product dries quickly and can be spread into a thin layer onto the face. Overall, this is a great affordable mask.
Back
to top