The VIP (Very Impressive Product) Pick of the Week #40

Posted 01/27/12 at 10:52AM by Audrey Fine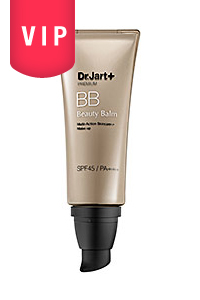 The Product
:
Dr. Jart + Premium Beauty Balm SPF 45 PA+++
The Price
: $39
The Company Spiel
: "A moisturizer, sunscreen, and treatment serum, this all-in-one product also includes advanced brightening properties. Ideal under makeup, its natural-looking coverage minimizes the appearance of imperfections and evens the skin tone. Antioxidant bio-peptides and adenosine protect skin from harsh environmental factors while restoring firmness and elasticity."
The Real Deal
: When it comes to beauty, I am lazy. There, I said it. When I was younger this wasn't really an issue. Back then, something as simple as a coat of mascara had me turning heads. Now, if I want to keep Crypt Keeper comparisons to a minimum, I have to make an effort. So, begrudgingly, I dig deep and apply at least
some
makeup every morning.
Because I lack the chromosome that would ignite a fire in me to spend hours (or, OK, even just a few minutes) getting ready, I'm always looking for products that cut down my get-ready time. That's why this Dr. Jart balm is, well, the bomb.
I apply a pump or two of this shimmery liquid to my face and it evens out my skin tone, imparts a youthful(ish) glow,
and
protects me from the sun. One, single product does
all
this.
The Upshot
: Dr. Jart and his magical Beauty Balm help me look semi-decent in one little step. What's not to like?
Do you have a go-to secret weapon that helps make your life easier? Please share.

Our Expert Guides