How I Foil Nail Polishes' Attempts to Smudge and Ruin My Manicure

Posted 01/27/12 at 10:25AM by Audrey Fine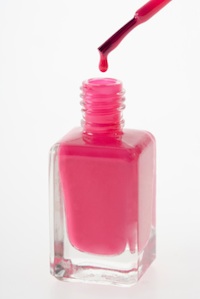 Things that annoy the you-know-what out of me: my post-twins belly button, people who litter, Larry the Cable Guy, and nail polish smudges.
Since I can't do anything about the first three, I've become hell-bent on figuring out how to make ruined manicures extinct. Here are the pro tips I've culled from legions of experts and, if I do say so, they work like a charm.
Tip 1
: Allow the first coat to dry for at least five minutes before applying the second. If the first coat's not completely dry, the second one makes the whole thing mushy and you'll have to wait three times as long for the polish to harden.
Tip 2
: Use a quick-dry spray. I love
OPI RapiDry Spray
. It reduces drying time by nearly half and, unlike many others, is in a pump bottle instead of an aerosol can, so it's not harmful to the ozone layer.
Tip 3
: Empty out an old bottle of clear polish, wash the brush, and fill the bottle with olive oil. Apply the oil (using the brush) to freshly painted nails and it will help expedite the drying process -- and impart a nice (albeit temporary) sheen.
Tip 4
: Dip your hands into a bowl of ice water. The cold helps solidify the polish.
I also learned a cool trick for being able to tell whether or not your nails are really and truly dry; when you suspect that they are, gently touch two nails together -- you're good to go when they pull apart without a tacky, sticky feel.
Now that you have these tips, it's time to pick your polish --
this snazzy OPI app
will help.

Our Expert Guides