My Four Tips for Faking Bright Eyes

Posted 09/27/11 at 06:27AM by Audrey Fine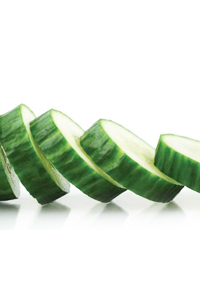 I don't get a whole lot of sleep these days. Kids, work,
life
-- you know the deal. On top of feeling like the walking dead, the lack of shut-eye (coupled with the facts that I have small eyes to begin with and eat way too much salt) makes me look, well, not so pretty in the morning.
Happily, I've found that there are a few things I can do to fake a bright-eyed look. And, since I'm nothing if not magnanimous, I'm going to share them with you.
Ready to dazzle your friends, family, and co-workers with your new, "I'm wide awake and raring to go" look? Let's do it.
Tip 1: Apply cold cucumber slices
I know, I know. You've heard this a million times before, but that's
because it works
. Place a single slice of cold cucumber over each eye; then relax (with your head propped up on a pillow) for 15 minutes, trying very hard not to fall back to sleep. The cooling, soothing properties of this green veggie help to de-puff swollen eyes. Timesaving trick: Keep a baggy of pre-sliced cucumber in your freezer.
Tip 2: Camouflage
Apply three dots of a hydrating eye cream below each eye, then blend into the surrounding area (careful not to encroach on your lashline or your mascara will smudge all day). Opt for a product with light-reflective pigments or brightening ingredients to make eyes appear even larger, luminous, and all-around fresher. (Try
Olay Total Effects Line & Dark Circle Minimizing Brush
, $21.99.)
Tip 3: Make friends with eyeliner and mascara
A lengthening mascara -- applied to top lashes only -- will make your eyes look more open. (Try
CoverGirl Exact Eyelights Eye-Brightening Mascara
, $7.49.)
For the eyeliner, define upper lashlines, but skip your inner eye rims and the lower lashlines. Applying liner to these areas inevitably makes eyes appear smaller and slighter (and more sleepy).
Tip 4: Add some color to your face
When you're sleep deprived, your skin can look washed out and lifeless. Dusting some bronzer on your cheekbones, temples, nose, and chin will bring your face back to life. (Just be sure it's only a couple of shades darker than your skin tone to avoid looking like Lindsay Lohan.)
And, there you have them. My four, easy-as-pie tricks to help you look as good as possible when you're feeling anything but. Oh, and, check out how to
shave precious minutes off your "get ready" timetable here
.

Our Expert Guides