I'm On the Braid Bandwagon (These Steps Will Help You Join, Too)

Posted 09/26/11 at 02:39PM by Rebekah George
I haven't worn braids since the fourth grade, but seeing celebs like Maria Menounous and Selena Gomez looking so darn cute in theirs made me want to give them a try.
Luckily, I live in New York City, where the John Barrett salon just opened "The Braid Bar" -- the city's first (and only) salon that specializes in braiding hair. I love it because you can choose from dozens of different braids featured in a catalogue and because it's quick -- my braided look took about 11 minutes from start to finish.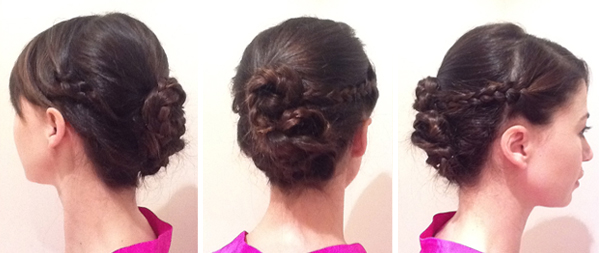 The look I chose is pictured here and I asked my braid stylist, Marco Maranghello, to walk me through the steps so that you guys can master this look at home.
Step 1:
Part your hair in the middle and then divide into two front and one back section using the back of the ear as the "middle" guideline.
Step 2:
Braid both front sections and secure the ends with a hair tie.
Step 3:
Make three different ponytails with the back section of hair. The easiest way is to have them spaced evenly, with a ponytail at the crown, center, and nape.
Step 4:
Braid each of the ponytails and tie off the ends with a hair tie.
Step 5:
Bring the braids from the front section to the back. They don't have to be at the same height. Pin them into place near the center of the head.
Step 6:
Take the three braided ponytails from the back and wrap each of them into a pin curl. Make sure the pin curl is flat, and weave a bobby pin into the curl to secure it. Get creative with where you place the pin curls and bobby pins. Depending on the placement, you'll end up with a chignon or banana twist or your very own "new" style.
You can watch me get my hair braided by Marco
by clicking here
, and, you can
click here
to watch Marco walk you through the steps.
And, if you want more step-by-step braiding tips and style ideas,
check out these
.

Our Expert Guides