How I'm Copying Ellen DeGeneres' "Teen Choice" Look

Posted 08/05/11 at 05:02AM by Audrey Fine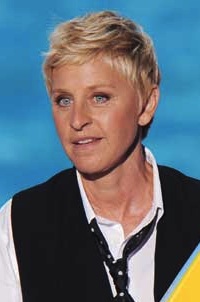 If you promise not to pass judgment, I'll cop to the fact that I went to the Teen Choice Awards last night. (A girl -- no matter what her age -- has to make a living.) Was I blown away by the Taylor Lautners and Kaley Cuocos of the teen dream world who turned out in droves in hopes of snagging a surfboard? Meh. Truth be told, I was most impressed with Ms. Ellen Degeneres.
The talk show host, who's clearly not a teen, walked away with "Choice Comic" honors and looked beautiful while doing it. The look was courtesy of pro makeup artist Heather Currie, who told us how she went about creating it ...
"I love getting people ready for the Teen Choice Awards because the attire tends to be more hip and trendy. Therefore, it's fun to complement the clothes by doing a makeup look that is fresh and can even lean towards edgy.
Ellen likes her makeup to look flawless, so I started by using the
COVERGIRL Simply Ageless Serum Primer
, $13.99. I like to start with a primer to give the foundation lasting power, which is great for a long night out.
I followed the primer with
COVERGIRL and Olay Simply Ageless Foundation
, $13.99. Since its summer and Ellen has a bit of a tan, I used foundation #245 Warm Beige. I like to start by getting the sponge wet and applying the foundation that way.
Next, I used a little of the
COVERGIRL and Olay Simply Ageless Concealer in Light Medium #215
, $10.99, and mixed it with the
COVERGIRL and Olay Simply Ageless Corrector in #230
, $11.99. I used my finger to mix the two together on the back of my hand, and then I applied it to the area under Ellen's eyes, making sure to reach the inner corners of the eye area as well.
I then applied the
COVERGIRL and Olay Simply Ageless Concealer in Light Medium #215
, $10.99, with a brush to the T-zone area. I used the concealer lightly to cover any redness or imperfections on her skin.
Because it is an event that lends itself to an edgier look, I made Ellen's eyes the focal point. Her eyes already stand out, so it's fun to enhance them even more. I began by applying the
COVERGIRL Intense ShadowBlast in Brown Bling #815
, $7.99, to the lid area, making sure to use my finger to blend the shadow into the crease. I love this product because it's a primer and a shadow so you can build on top of it with dry eyeshadow for a lasting look.
To add more definition to the lash line I then added the
COVERGIRL LiquilineBlast Eyeliner in Brown Blaze #420
, $7.99. I like to use my finger to smudge this line upwards away from the lash to give it a smoky effect. I do this step a couple of times for more intensity, always making sure to blend it well. And to complete the eyes, I applied two coats of
COVERGIRL NatureLuxe Mousse Mascara in Brown #515
, $8.49.
Since the focus was more on the eyes, I used a lighter color of blush,
COVERGIRL and Olay Simply Ageless Blush in Rich Cinnamon #210
, $10.49. I applied the blush with a synthetic brush, but it's just as easy to use your finger, or the sponge that it comes with.
Because I wanted Ellen's skin to have a beautiful glow, I lightly powdered her face with the
COVERGIRL Clean Pressed Powder for Normal Skin in Natural Beige #140
, $6.99.
Along with the blush, I wanted to downplay Ellen's lips so that her eyes would remain the focus. I used
COVERGIRL NatureLuxe Gloss Balm in Pinot #245
, $5.99.I really like this gloss. Not only is it moisturizing, but it also adds a hint of color to the lips without looking heavy."
And, there you have it. Ellen's gorgeous-yet-wearable look. Want more pro tips? You've
come to the right place
.

Our Expert Guides