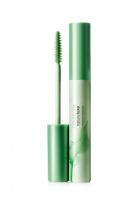 Meh

I find this mascara very light. It's my everyday mascara when I am looking for a light everyday look. It doesn't do much for volume or fullness but I don't find it clumps. I have had a great experience with this product but if your looking for something thats going to give you a dramatic look it's probably not for you. The commercial says that this product is "light" but it makes my eyelashes stic...read morek straight and hard as rock. It's awful. I usually buy waterproof simply because it will hold a curl so much better but that is not the case. Nothing about this feels "natural." Didn't like it. Felt very wet going on and continued to feel wet for hours. I know that seems crazy, but I tried it a couple times and both times it felt very wet and heavy even with only one coat on. It definitely didn't add volume b/c the lashes were stuck together, not clumpy, but wet looking. Hoping Walmart will take it back, it was a waste of my $$. I'm not exactly sure what is so mousse-y about this. As other reviewers have said, it seems to be the same consistency as any other mascara. That being said, I am a fan. I usually don't like plastic applicators with mascara, but this one works well. I use two coats and my lashes look full and long. At the end of the day, I use my Bioderma makeup remover paired with Purity Made Simple and it comes off pretty easily. Most important, my fiance has told me how nice my eyelashes look when I wear this, which has never happened before. Since Taylor Swift was the spokesperson for this particular mascara, and the overall Nature Luxe line...I had to buy this! It claims to be a water-resistant mousse mascara. In all honesty, even thought it claims to be a mousse formula... it's not much different, formula-wise, as another mascara. BUT, when it says water-resistant, its not joking. I went to the beach and through sweating AND underwater in the ocean, it did NOT budge. If you're looking for a good actual water-proof mascara that volumizes nicely with some unintentional length, go for this one!

Review subject

Pros: I like the mascara wand, and the fact that it coated all my lashes well. I also like the fact that it is made with more natural ingredients. The colors, while staying basic (black and brown, etc) were just what I was looking for. The formula was nice to apply to my lashes, very smooth. Cons: while the formula is nice because it is a "mousse", it also made it hard to apply with the mascar...read morea wand because it is a very small mascara wand. I had to work with the wand so that I was not having to battle huge blobs of mascara. It tends to clump easy to, due to the texture of the mascara formula. about halfway thru the day, I had several black dots on my eye lids, from blinking thru out the day. The second day I used an eye primer, but I still had a few dots on my eyelids. It was an okay mascara, I just don't like needing to check my lids every so often to make sure that I'm free of little mascara dots. I did like the wand however, the formula was just to thick to work in harmony with said mascara wand.

Excellent Defining Mascara for Every Day

I really like this mascara for daily wear to work. I wanted something light feeling and that give me good length but would not make me look like I made myself up for a night of clubbing (not appropriate for the office...LOL). This has been perfect for that. So far, I've found it doesn't clump, flake, irritate my sensitive, allergy prone eyes or feel heavy on my lashes. It also washes off reall...read morey easily. I got caught in the rain the other day while wearing it and it didn't run or give me raccoon eyes either. I don't notice a smell either and it hasn't given me any issues wit taking too long to dry, as some other reviewers have mentioned. I like the wand and haven't noticed it coming out clumpy but I also wipe all my mascara wands with paper towels in the very beginning to eliminate that issue.

Back
to top