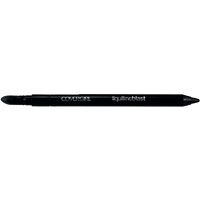 not good

This ran like crazy and stung my eyes. It also seemed like the color of the liner wasn't very true or pure. It had a weird greenish tint to it. I give it a thumbs down.

great!

it goes on very smoothly and does not irritate my waterline. also, i was impressed that it stayed on and did not smudge or transfer. for a covergirl eyeliner, this is awesome! it's very affordable and lasts a long time. i would repurchase this.

Messy and hard to apply!

I bought this eyeliner in a brown, which is always a safe bet for me. I really didn't care for it. It was so hard to get a thin line against my lashes. The pencil portion is really soft, goes on too thickly, and tends to not be real smooth either. I have tried it several times now and am just not satisfied. On top of that, brown which is always flattering on me, did not even look all that good or natural. Ehhh.... I won't be purchasing again.

Back
to top