The 5 Beauty Apps I'm Downloading Now

Posted 10/20/10 at 02:17PM by Total Beauty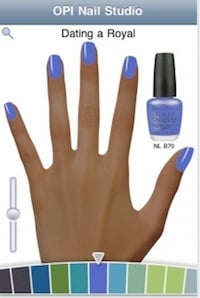 Remember when a cell phone was used to
call
people? These days, actual calls are pretty much the last thing we use 'em for. But, the good news is, all the time we spend not talking to anyone can be used garnering info about things we really care about. Fun things like beauty tips, hairstyling and the like.
To that end, here's my list of 5 must-download apps that have gotten me up-to-snuff on all that's happening in the wonderful world of beauty.
Age Defying Tricks, $.99
A compendium of advice from top beauty mags like Vogue and cosmetic companies like Aveda. This app boasts more than 100 tips and insider how-tos like: "Heavy powders tend to make the skin look dry and accentuate lines. Opt for a lightweight foundation with light-reflecting ingredients to brighten the skin." Won't solve world hunger, but sometimes the right tip can make a big difference.
Haircaster, $.99
Want to know whether it's even worth blowing out your hair today? One glance at Haircaster will give the details of your local forecast that YOU care about -- the humidity, chance of rain and wind rate -- and let you decide in an instant whether to just throw your hair into a ponytail and call it a day. Knowledge, as they say, is power.
Celebrity Makeup Looks, FREE
Want to look like your favorite star, but don't know how to begin? This cool app boasts nearly 30 instructional videos that will walk you through getting looks as varied as Angelina Jolie's "Easy Smokey Eye" and Miley Cyrus' "Green Eyeshadow Look." It's free and easy and, hey, with Halloween coming up, may just come in super-handy.
iStylist Makeover, $.99
Been contemplating a drastic Pixie cut or switch to platinum blonde, but just can't seem to get the guts to throw the switch? Upload a photo of yourself to iStylist Makeover and, presto, you'll see yourself in any style or shade you fancy. The bonus? You can post your "new" self on Facebook to have friends weigh in before you even get anywhere near a pair of scissors!
OPI, FREE
Back in the day you had to hide in the aisles of your local drugstore and sneak swipes of polish onto your nails if you wanted to test drive a color before committing. Now, thanks to OPI, you can try on polishes from its vast collection on a virtual hand that matches your skin tone. Think of all the time you'll save hemming and hawing at the nail spa, the nearest one of which, the app will locate for you.
Like getting your info from your computer instead of your phone? Stay put! We have some pretty cool tools right here. Use the
Color Finder
to figure out which makeup and hair hues go best with your skin tone. And, the
Skin Matrix
will help you to pin point precisely what you need to do to address -- and fix -- the issues that are bugging you.

Our Expert Guides