What Perfume Has Defined Your Life?

Posted by Anna on February 5, 2011 at 12:05PM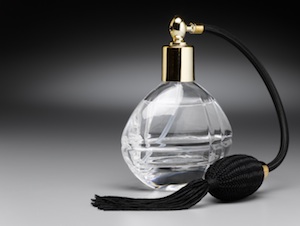 I can be walking past a perfume counter in Macy's, catch the sweet scent of Bulgarian rose and almond wafting through the air and be immediately transported to my sophomore year in college when anything and everything was a possibility and I wore the scent Hanae Mori like it were going out of style. That, my friends, was a good year.
We all have those perfumes, don't we? You know, the ones that defined a period of our life and every time we smell it are reminded of that vacation in Paris, the summer at the beach or even high school?
When I asked my coworker Audrey which perfumes defined her life, she told me about these:
"Anais Anais, $40: All of my friends wore this classic Cacharel fragrance in high school and while we were sorely lacking in originality, we made up for it by having fun lip synching to the Bangles' 'Walk Like an Egyptian' and dancing like those hot girls in Robert Palmer's 'Addicted to Love' video.
Chanel Cristalle, $94: The fresh flowery notes of my beloved Cristalle buoyed me all through college. It was such a part of me that when I saw my former flame a few years ago he asked whether I still wore it. (The answer was 'no,' but I was flattered that he remembered it.) I can't remember much about the classes, but I do remember Cristalle, 'Vogue-ing' along with Madonna and drooling over Sebastian Bach every time 'I Remember You' played on MTV. (That was tuition well spent.)
Yves Saint Laurent Beauty YSL Paris Eau de Toilette, $62: This has been my signature scent for going on 16 years. I wear it every day (even if I don't leave the house) and it's such a part of me that my kids ask me to spray it on their pillows when I'm going to be away for work. When I first glommed on to it, the MACARENA was all the rage. Now THAT is a long time to be faithful to a fragrance."
So tell me, do different scents transport you to a different place and time? Which perfume holds the strongest memories for you?