My Life as Defined by Four Fragrances

Posted 01/14/11 at 03:33PM by Audrey Fine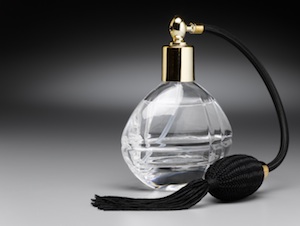 Are you an olfactory person? I catch a whiff of a fragrance and it instantly transports me back to a place and time. Love that.
Sometimes, just for kicks (and an instant stroll down memory lane) I'll stop at a department store fragrance counter to get a spritz of a scent I wore years ago because, somehow, the various stages of my life are as clearly identifiable by the perfumes I liked at the time as by other markers like hit songs or TV shows.
Here are the four fragrances that bring me back -- big time. Any of them gel with you?
#1.
Anais Anais
, $40:
All
of my friends wore this classic Cacharel fragrance in high school and while we were sorely lacking in originality, we made up for it by having fun lip synching to the Bangles' "Walk Like an Egyptian" and dancing like those hot girls in Robert Palmer's "Addicted to Love" video.
#2.
Chanel Cristalle
, $94: The fresh flowery notes of my beloved Cristalle buoyed me all through college. It was such a part of me that when I saw my former flame a few years ago he asked whether I still wore it. (The answer was "no," but I was flattered that he remembered it.) I can't remember much about the classes but I remember Cristalle, "Vogue-ing" along with Madonna and drooling over Sebastian Bach every time "I Remember You" played on MTV. (That was tuition well spent.)
#3.
Prescriptives Calyx Exhilarating Fragrance
, $69: Ahh, Calyx's refreshing citrus scent brings me back to my days working in the Caribbean at Club Med resorts. Seal and Hootie and the Blowfish were all the rage and "Friends" debuted. But anytime I see that signature burnished glass bottle, I get a whiff of grapefruit in my mind's nose.
#4.
Yves Saint Laurent Beauty YSL Paris Eau de Toilette
, $62: This has been my signature scent for going on 16 years. I wear it every day (even if I don't leave the house) and it's such a part of me that my kids ask me to spray it on their pillows when I'm going to be away for work. When I first glommed on to it, the MACARENA was all the rage. Now THAT is a long time to be faithful to a fragrance.
How about you? Do different scents transport you to a different place and time? What's your favorite fragrance? Oooh, and what about men's colognes? I have
4 favorites
that
really
make me remember certain someones.

Our Expert Guides