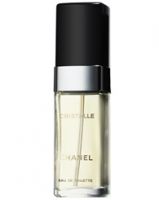 Crisp Classic!

As opposed to Chanel's very strong "Coco," I find "Cristalle" delightfully light, crisp, and fresh, with green and floral notes. It never overwhelms, but just leaves you smelling fresh and lovely.

the best

of all the channel fragrences

fresh classic

A little citrusy, green, but still slightly floral. It's the kind of refreshing but grown-up fragrance you can wear anywhere. One of Chanel's greatest hits as far as I'm concerned.

Back
to top