The New Curling Iron You Need for Perfect, Wavy Hair

Posted by Stephanie on July 11, 2011 at 12:25PM

Thanks to the wavy hair trend that is all the rage this summer, there are more expert tips on how to create this carefree look than ever before. In true beauty-obsessed fashion, I made sure I had all the products necessary to create this look a month before summer started (volumizing mousse, salt spray, finishing crème, check!). After all, I wanted to practice in private so I could prevent any not-so-hot hair moments popping up on my Facebook page.
I've tried so many techniques for achieving this tousled look -- all touted to be fail-proof -- but frankly became tired of all the steps and products needed. After all, summer is all about low-maintenance beauty, right? Enter my new favorite wavy hair tool: A multiple-barrel curling iron.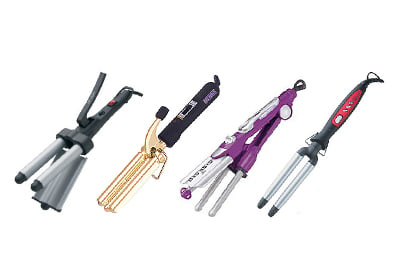 While this iron may look intimidating (I'm the first to admit it could quite possibly be mistaken for a torture device), it promises to create loose and natural waves with a flick of your wrist. These curling irons work like a regular-looking single barrel curling iron, except you have to weave your hair between the two (or three) barrels, so it may be a good idea to have a heat resistant glove on when giving these devices a go -- at least the first few times.
Here are some of the multiple-barrel irons I found:
1. Rsession Tools Naluwaver, $179.99
By wrapping a strand of hair in a figure eight around the two barrels, you can create a unique curl pattern that looks carefree and natural. Depending on how tightly or loosely you wrap the hair, waves will vary in size. You can also use the Naluwaver to create volume at the crown for updos, and it works well for all hair types.
2. Hot Tools Gold 3 Barrel Waver Spring Iron, $44.99
The 24k gold plating on this iron allows the barrel to heat up (and cool down) evenly and quickly. The different temperature settings allow more control over how tight or loose the curls are, making it ideal for thin or straight hair.
3. Revlon Ceramic 3-Barrel Jumbo Weaver, $24.99
This ceramic 3-barrel weaver is great for curling large chunks of hair and creating a voluminous, full-bodied look thanks to the extra barrel. The ceramic barrels lock in moisture and shine as you style, and are most effective for normal hair types.
4. Bedhead Dual Barrel Waver, $34.99
The Bedhead waver has adjustable barrels, giving you control over the desired curl size. The ceramic barrels also give off negative ions and have fiber optic heat indicators that change colors to indicate the temperature, which help protect hair from heat damage. This waver is best suited for normal hair types.
The hair weaving part may sound a bit tricky, but trust me -- practice makes perfect. And really, if a double-barrel iron is the trick to getting Giselle Bundchen's signature waves, then I think it's well worth the effort, don't you?
Tell me what you think! Have you tried these curling irons before? Are you intrigued enough to give one a try?