Natural Beauty Miranda Kerr's Top Beauty Secrets

Posted by Kamala on July 12, 2011 at 11:03AM

You know the rules: exercise daily, drink more water and eat a wide variety of fruits and vegetables in order to lose weight and have amazing skin. This is easy to remember, not always so easy to follow. But what if we told you that all you have to do is add these two foods to your diet every day to see big, beauty-boosting results? Would it help if we mentioned that Victoria's Secret model Miranda Kerr swears by them? Read on.
Noni Juice

High in antioxidants that offer anti-aging benefits and may even help reverse skin damage, this South East Asian fruit drink is a natural cure-all. According to Dr. Mona Harrison, M.D., a pediatrics and family medicine specialist, noni juice helps treat acne, prevents hair loss, and boosts energy and immunity.
Kerr attributes her natural glow to drinking noni juice daily -- she's downed the stuff since she was fourteen years old and says it's the one thing she can't live without. You can purchase the same Tahitian Noni Juice she drinks -- but keep in mind that at $38 per tk ounces, this beauty in a bottle doesn't come cheap.
Coconut Oil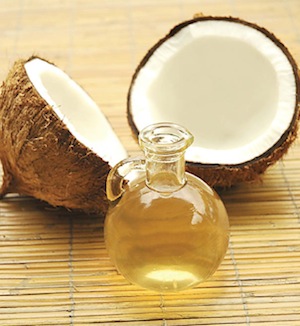 The benefits of coconut oil are endless, says physician and Mercola.com founder Dr. Joseph Mercola, M.D. He says that coconut oil offers antiviral, antifungal and antibacterial properties. In addition to helping promote weight loss, coconut oil improves your complexion, helps boost hair shine and growth, prevents wrinkling and minimizes the effects of sun damage.
Kerr admits she won't go a day without consuming coconut oil and manages to incorporate four tablespoons daily into her diet by mixing it with her salads or stirring it into a cup of green tea. You can purchase coconut oil in pill form or as pure oil, depending on your preference. Most health food stores sell organic coconut oil.
The benefits of noni juice and coconut oil are extensive -- and it doesn't take much to reap the benefits. Who knew the key to natural beauty could be so simple?