The Craziest Makeup Trend I've Seen This Week

Posted by Stephanie on July 13, 2011 at 03:56PM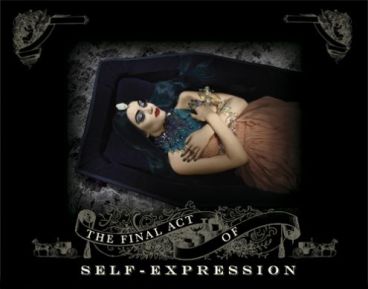 I'm almost certain that everyone knows a fearless lady -- or gentleman -- whose makeup only gets more fabulous with age. Well past the age of insecurities, these eccentric types aren't afraid to experiment with color and will mostly likely continue to do so 'till the day they die. For these daring spirits among us, Illamasqua has created a new service -- "Final Act of Self Expression" -- that brings fierce makeup to … the funeral parlor.
Yep. You read that right.
I know it sounds super crazy, but Illamasqua's campaign is inspiring me to get a little more creative with my makeup already. After all, there's no better time than now -- while I'm still alive, right? Although the avant-garde funeral makeup is only available in London, I'm sure it will offer up all kinds of inspiration for those who lose makeup-fanatic loved ones on this side of the pond.
Here's the thing, though: Since I read about this campaign I can't get a disturbing image out of my head. It goes something like this: A confused grade schooler goes up to a casket to bid her grandma a final farewell, but upon seeing her in full-on Illamasqua-style makeup, immediately bursts into tears of fear. Grandma's passing away alone should be traumatic enough; adding seriously dramatic makeup to that scene just seems downright cruel!
While the thought of wearing statement-making makeup 'till the day you're dead is appealing to some, I'm sure, I think it's much better suited for a gutsy editorial spread.
But really, talk about going out with a bang. Can you imagine darling granny in fit-for-a-tranny makeup?