The Best Skin Care Regimen for You

Posted by Kristen on June 14, 2010 at 06:49PM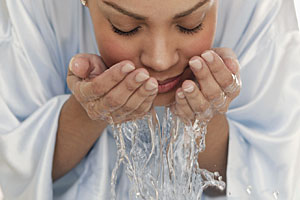 Your skin care routine is important (see 8 reason's why skin regimens work here). And actually, if you think about it, finding the right combination of skin care products is kinda like finding the perfect man. If your daily skin care regimen is missing one important quality that your skin needs, the relationship is destined for failure. It's similar to when that hot guy you dated in college (did you go to school in one of these hottest-guy cities?) couldn't keep up in the smarts department. If your face wash is great, but the moisturizer you apply after isn't right for your skin type, then the entire regimen won't work. Stop wasting your time and take this quiz to find the best skin care routine for you.
Some of the important questions to ask yourself when determining if your routine is right for you:
1. How much time do you spend in the sun?
-When it's warm? A lot.
-Not much. And when I do, I wear a high SPF
-Not a lot. Just on weekends
2. Right now your skincare regimen consists of how many products?
-One -- cleanser/soap
-2 - 4
-5 or more
3. You use a product containing retinol or another retinoid:
-Once in a while
-Every night
-I don't use one
-What the heck is a retinol/retinoid?
4. Your diet is:
-Healthy -- full of fruits and veggies
-Balanced -- I can't resist sweets all of the time
-Unhealthy -- Sweets, fast food, soda … bring it on
*After you find your best skin care routine, see if these top-rated face cleansing towelettes can be a part of it
*Then find the best makeup look for your face shape to show off that gorgeous skin of yours
*And finish off your look with a hot, date-worthy hairdo
*Get more skin care and makeup advice here
*Want in on a little beauty discount secret? See how to get great deals and exclusive offers on beauty products here
*Keep up with the latest in beauty -- follow us on Twitter, add us on YouTube or become a fan on Facebook.