What Men's Grooming and Skin Care Products Do You Use?

Posted by Kristen on June 15, 2010 at 05:34PM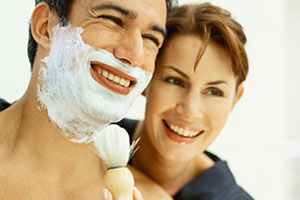 Not to get on my feminist soapbox, but why does everything have to be gender-specific? (Speaking of soap … check out our top 21 body washes.) I mean those ridiculously long lines for the ladies room at concert venues could totally be avoided by introducing a unisex bathroom. And what if a skinny boy can only fit in "girl's" jeans or if a woman prefers "men's" shaving cream?
Case in point: In this special Father's Day roundup of the best male grooming goods, aside from men, a slew of Total Beauty's female readers chimed in (either sheepishly or unabashedly) that they love men's skin care products.
So fess up -- when you were a tween, did you ever steal your dad's shaving cream so you could sneakily shave your legs? And these days, what products do you snatch from your significant other?
• What's up with fugly celeb guys who date out of their league? See the 15 who graced our list.
• How about your own backyard … do you live in one of these eight cities with the ugliest guys? Or are you lucky enough to reside in one of the top 10 hottest-guy cities?
• Get more skin care advice and info on skin care products.
• Want in on a little beauty discount secret? See how to get great deals and offers on beauty products here.
• Keep up with the latest in beauty -- follow us on Twitter, add us on YouTube and friend us on Facebook.