Jessica Simpson Hairstyles: Clip-In Bangs -- a Do or a Don't?

Posted by Kristen on June 11, 2010 at 06:14PM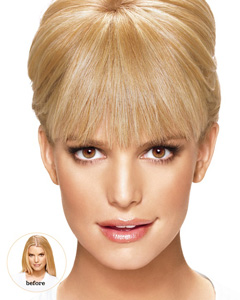 Bangs are a clever way to conceal a large forehead, make an edgy-hair statement, or simply update your look (see photos of the celeb bangs). The only downside is if you don't like them, they're a pain -- in-the-you-know-what -- to grow out.
But what if you could still rock fringe sans scissors … it's possible if you try clip-in bangs, the brainchild Jessica Simpson and her hairstylist Ken Paves. Which begs us to ask: would you try these bangs in a box? Or are they an accessory that only works on a photo shoot set or for a five-minute red carpet cameo?
• If you're not feeling the clip-in bangs -- try 'em for real. Get inspiration from celebs with fly fringe.
• Watch this video to see how to trim your own bangs.
• Learn about hot new hairstyles and see more Jessica Simpson hairstyles.
• Want in on a little beauty discount secret? See how to get great deals and exclusive offers on beauty products here.
• Keep up with the latest in beauty -- follow us on Twitter, add us on YouTube and friend us on Facebook.