Spring Hairstyle Trends and How-Tos

Posted by Anna on April 27, 2011 at 01:06PM

Great news: Fashion forward spring hairstyles seem to have one thing in common and that's a roughed-up or easy, breezy texture.
Why is that great news? Well because this look is meant to have a disheveled vibe. In short, it's hard to mess up.
Here are some of the hottest hairstyle trends for spring created by Rodney Cutler, Owner of Cutler/Redken salons, and how to copy them step-by-step.
Textured Ponytail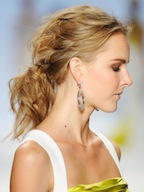 How To:
1. Spray Cutler Volumizing Spray, $21 into damp hair and blow dry for volume and texture.
2. Set hair with a one-inch curling iron, taking small sections and lightly spraying with strong-hold hairspray.
3. Rake fingers through hair, starting at the roots to create a disheveled look.
4. Create an imperfect center part and pull hair back into a low center ponytail.
5. Use a bungee elastic and be sure to apply tension while securing the ponytail, which will accentuate the shape of your head. Lightly brush the ponytail to create an airy effect.
Fishtail Braid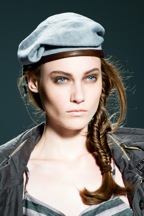 How To:
1. Spray damp hair with a volumizing spray and blow dry for volume.
2. Gather all hair just below the ear, pull to one side, create a fishtail braid and secure with a small piece of leather. Click here for step-by-step instructions on how to create a fishtail braid.
3. Leave a few flyaways around your hairline to create a soft effect.
4. Lightly spray with hairspray (try TRESemme Tres Spray Super Hold Hairspray, $3.99.
Romantic Bun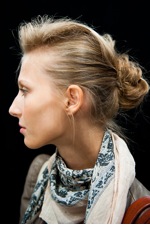 How To:
1. Spray Redken Spray Starch, $17.73 on dry hair for added texture, and create two ponytails -- one on top of the other.
2. Lightly apply a curl defining cream to the top section of your hair and, starting at the roots, curl in diagonal sections with a one-inch curling iron.
3. Loosely brush out the top section of your hair to create romantic waves.
4. Twist the two ponytails together to create a loose bun at the back of your head and secure with bobby pins.
Dramatic Bun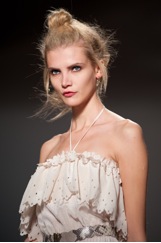 How To:
1. Apply a straightening cream to damp hair and blow dry in an upward motion, lifting the roots with a soft brush.
2. Gather hair into a high ponytail, pulling small sections from the style and secure with an elastic.
3. Twist the high ponytail into a knot, secure with hair pins and tuck the ends into the bun.
4. Lightly pull out a tiny section of hair on each side of your temple. Then spritz a finishing spray on your hands before lightly smoothing them along the sides of your head to accentuate the look.