Quick Makeup Looks For Your Skin Tone

Posted by Anna on January 10, 2011 at 05:59PM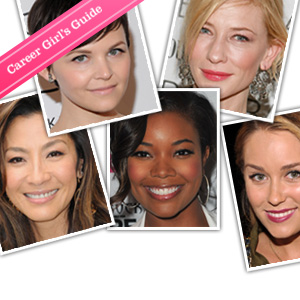 Hey, let's play a game. On my count, start making a mental list of all the things you can accomplish in five minutes or less. Ready? Go!
[INSERT JEOPARDY JINGLE HERE]
Alright, alright. That's good enough. Now, was "copy a gorgeous celebrity makeup look that perfectly flatters your skin tone" one of the things you came up with? If not, here's why it should've been.
We've deconstructed several gorgeous celeb looks and worked it out so that you can get the same beautiful results in fewer than five minutes. Intrigued? Take a gander at these 5-minute celebrity makeup looks for your skin tone: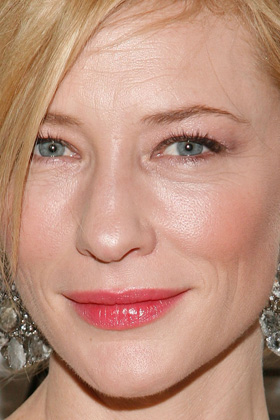 Skin tone: Fair
Seen on: Cate Blanchette
Why it works: The peach and coral hues bring warmth to a light face and are perfect for an everyday office look.
How to get it: Apply a tinted moisturizer, then sweep a shimmery mauve eyeshadow like Paula Dorf Eye Color Glimmer in Halo, $21 across your lids. Use a brown pencil liner with a smudge attachment to line top lash lines. Gently smudge the lines to soften them. Apply two coats of black mascara to your top lashes. Dust the apples of your cheeks in a shimmery apricot shade. Finish by applying a moisturizing coral lipstick on your lips (try Neutrogena MoistureShine Lip Sheers in Peach Sorbet, $8.99).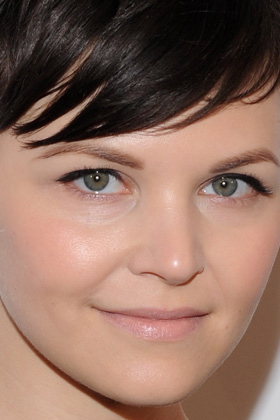 Skin tone: Beige
Seen on: Ginnifer Goodwin
Why it works: Retro eyeliner and glowing skin make this look conservative yet hip.
How to get it: Start by applying a long-lasting liquid foundation like MAC Pro Longwear SPF 10 Foundation, $29.50 to even out your skin tone. Dust the apples of your cheeks with a sheer pink blush and coat your lips with clear gloss or lip balm. Then, using a liquid felt tip black eyeliner like NYX Super Skinny Eye Marker, $10, line your top lashes, sweeping the pen up and out very slightly at the outer corners of your eyes. This will give you a subtle cat eye effect. Apply multiple coats of black mascara to top lashes only and fill in your brows with brow powder and an angled brush.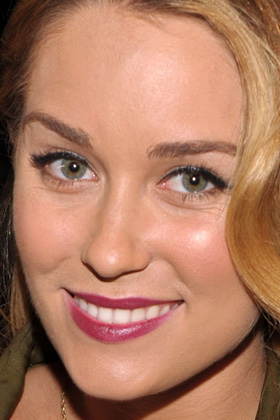 Skin tone: Golden
Seen on: Lauren Conrad
Why it works: Merlot-colored glossy lips and pink rosy cheeks bring life to your coloring and up the chic factor for a progressive office look.
How to get it: Start by applying liquid foundation to the areas of your face that need coverage and blend well. Next, dust your cheeks with a rosy pink powder like CoverGirl Classic Color Blush in Rose Silk, $5.99. Line your upper lash lines with a black liquid liner creating a thin winged line at the outer corners of your eyes. Swipe two coats of black mascara on your top lashes and finish your look by coating lips with a glossy plum-colored lipstick like Maybelline New York Color Sensational Lipcolor in Plum-Tastic, $7.50.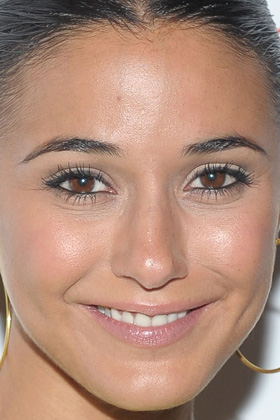 Skin tone: Bronze
Seen on: Emmanuelle Chriqui
Why it works: Strong black eyeliner instantly makes your eyes stand out, and a soft glossy lip keeps the look sophisticated enough for the workplace.
How to get it: Apply foundation and concealer to areas that need coverage then dust your entire face with translucent loose powder. Sweep pink blush on your cheeks. Then, to make your eyes pop, swipe a pale beige shadow across your lids (try Urban Decay Eyeshadow in Midnight Cowboy, $17). Line the inner upper and lower rims of your eyes with a deeply pigmented black pencil like Sephora Keep Kohl! Waterproof Liner, $9. Finish by coating lashes with black mascara and applying an icy pink gloss to your lips.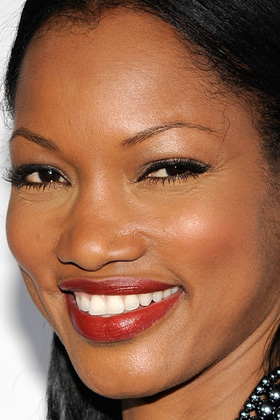 Skin tone: Dark
Seen on: Garcelle Beauvais
Why it works: Brick-colored lips look amazing on dark skin and are the simplest way to snazz up an office look.
How to get it: Sweep on powder foundation and blend a light gold eyeshadow on your lids. Line upper and lower lash lines with black eyeliner and use multiple coats of black mascara on your top and bottom lashes. Use a burnt red-colored lipstick on your lips like MAC Lipstick in Brick-O-La, $14. Apply a touch of glossy lip balm on top for a silky finish.