Makeup Test: Best Foundations

Posted by Kristen on November 18, 2010 at 02:58PM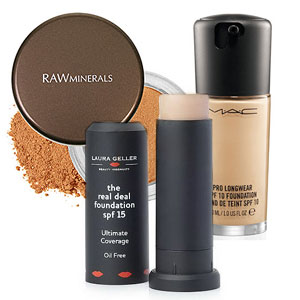 Around the holidays, lists are absolutely necessary to make sure you don't forget everyone on your "must gift" list (see the best beauty products to gift here). Remember the uproar it caused when you forget ol' mom-in-law's assorted candied fruit basket? Nightmare -- and she still hasn't forgiven you. The point is, lists can be fun. Especially when they are "favorite" lists … like Oprah's. Unfortunately we won't be giving you any of the foundations at the end of this article like O would, maybe next year … if you're good. Anywho, I decided to make a list of the 12 foundations our editors think are the best.
I made the list. I checked it twice. Here are five of the foundations that made it: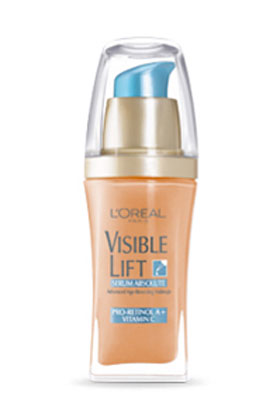 Tester: Sarah Carrillo, Senior Associate Editor
Rating: 8
What she thought: "While I can't speak to the anti-aging benefits (I haven't tried it long enough to really see an effect), I do love this foundation. The liquid formula felt light on my face, not like I was wearing a mask, and the shimmer in it gave me a nice glow. It was less obvious than the Revlon Photo Finish, which also has shimmer in it, and that outranked the L'Oreal one in my book (although anyone looking for an extra dose of shimmer/glow should try the Revlon one).
Overall I think it's a good everyday foundation, the coverage is sheer (although you can build it up) and it lasted on my face for most of the day. If you're acne-prone and use your foundation to cover pimples, I would steer clear though -- the shimmer would highlight them more than conceal. But to even your skin tone and smooth over fine lines, this is perfect."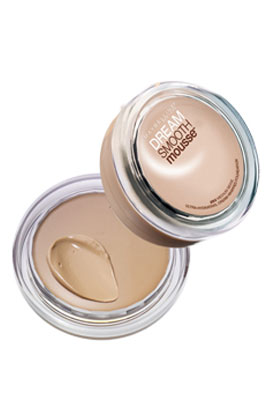 Tester: Kristen Giordani, Executive Editor
Rating: 8
What she thought: "If you're constantly on the go like I am, this is the foundation to take along for the ride. It's solid, so you can carry it on a plane without having to go through the whole plastic baggie song and dance. It has a two-compartment packaging -- the sponge applicator is found under the snap open lid and the foundation is accessed by screwing off the entire lid, which keeps things neat and germ-free. The included sponge actually works well (most included applicators, I toss) to give you medium coverage that is well blended. The oil-free, fragrance-free formula feels a bit cooling as it glides on your skin, which feels fabulous and moisturizing. It's not dry or cakey-looking and doesn't settle oddly on your skin after a long day of wear -- even if you have combination skin like I do. It's also great for midday touch-ups."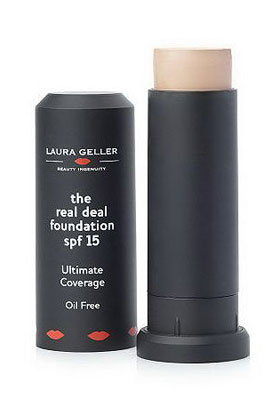 Tester: Beth Mayall-Traglia, Editor-in-Chief
Rating: 8.5
What she thought: "With a ruddy complexion like mine, I need a foundation with a decent amount of coverage -- something this formula definitely does provide. The trick is, most foundations with good coverage make me look like I've got a fine coating of makeup on (which, granted, I do -- but you don't need to know that, do you?). The sponge blender helps work the makeup into my skin, so it looks pretty natural. Application-wise, the makeup is housed in a dial-up stick; I loaded the sponge with makeup by swiping against the stick, then blended into my skin. Not the easiest thing in the world, and so not my go-to choice for touch-ups on the road. The formula is more matte than dewy, and those with aging skin may find it too drying, but just about everyone else -- particularly those whose complexions that need evening out -- will find this a good choice. Oh, and the sponge is worth a mention, as it might very well be the cutest thing ever -- shaped like giant pink lips."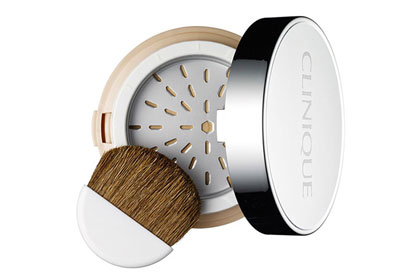 Tester: Tiffany Matloob, Editorial Intern
Rating: 9
What she thought: "This product takes away any fears of foundation looking cakey and messy. It glides onto the skin smoothly to provide a perfect complexion. Its weightless feel and easy-to-use brush applicator make it hard not to want to finish the entire container in one day. The portable packaging that comes with a built-in mirror and mini-brush makes touch-ups fast and easy -- not that you need any since the product lasts the entire day. The best feature has to be the twist and turn top that shaves the powder for you so that you get just the right amount to use for each application."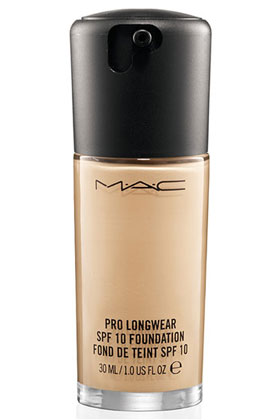 Tester: Anna Jimenez, Assistant Editor
Rating: 9.5
What she thought: "I have always been a fan of MAC foundations so I wasn't surprised when I fell hopelessly in love with this one. I have pretty oily skin so I usually opt for a powder foundation -- liquids often make my face look like a grease ball by the end of the day -- but this liquid keeps me perfectly matte. Best part is that the coverage is also excellent, which I need desperately because after all I am "that girl" -- the one that uses foundation as a crutch to mask some rough spots (pimples, discoloration) on my face. I actually got compliments from different people asking me if I was doing something different with my skin care routine because this foundation hides my imperfections so well. When the makeup I'm wearing fools my closest friends into thinking I have suddenly become a skin care aficionado, it will forever have a place in my heart."
See the rest of our favorite foundations here -- do you know which second highest-rated foundation costs less than ten bucks?