Learn the Hair Care Tricks the Pros Use to Get Gorgeous, Shiny Hair

Posted by Kristen on May 14, 2010 at 05:54PM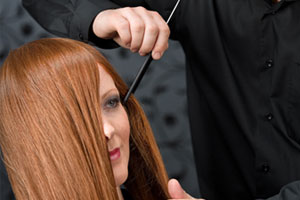 Beauty experts know that you don't have to spend a ton of cash to get great skin, flawless-looking makeup or hair. In fact, there are plenty of insider tricks that will leave you looking like a million bucks without having to bring a hammer anywhere near your poor little piggy bank.
(And don't assume that cheap equals low quality, learn to shop the beauty aisles like a pro and you'll never question that theory again.)
These 11 Pro Hair Tips will help you learn how to keep your hair looking salon-super without stepping foot inside one.
No. 11: Make Your Own Deep Conditioner
Steven West, a stylist at Beverly Hills' Umberto Salon, recommends making deep conditioning masks at home using things you find in the kitchen. For example, you can apply mayonnaise to your hair and then wrap your head in a warm, damp towel to help it absorb.
See which other natural products West recommends slathering on.
No. 10: Use silicone between haircuts
Skip the trim and extend the life of your cut by applying drops of silicone to your ends instead. Luke O'Connor, co-owner of the Lukaro Salon in Beverly Hills, explains that this will help to keep super-dry hair from breaking off and looking ragged.
See what else O'Connor says will nip split ends in the bud.
No 9. Make Your Blowout Last Longer
Nothing feels like a bigger waste of money (and time) than having to shampoo a pro-blow too soon after getting it done. One way to keep hair looking -- and feeling -- clean longer is to use a dry shampoo like Psssssst. Instant Spray Shampoo, $5.34.
Or make like MacGyver and learn how to make your own dry shampoo.
No 8. Clarify Your Hair
Ditch those expensive clarifying shampoos and masks in favor of something that'd make Granny proud -- a rinse with good old baking soda. One of the many, many uses for that little yellow box is to help rid your strands of all the gunk that accumulates from using too many products.
7 more Pro Hair Secrets to go … don't stop now!
•Save even more money by learning to give yourself a salon-worthy blow dry. It IS possible to do!
•You've learned some tips here, why not broaden your insider knowledge with these 14 Secrets Your Hairstylist Won't Tell You?
•And, while you're at it, discover (once and for all) the best shampoo and conditioners for your hair and find the shampoos that'll save your color and your cash!
•Haven't had enough? Get more scoop on hairstyles and hair care.
•Want in on a little beauty discount secret? See how to get great deals and offers on beauty products here.
• Keep up with the latest in beauty -- follow us on Twitter, add us on YouTube and friend us on Facebook.