How I Learned to Embrace the Gradual Tan

Posted by Sarah on April 9, 2008 at 01:29PM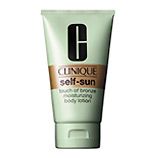 I have much love and adoration for porcelain beauties like Anne Hathaway and Scarlett Johansson, but personally I think I look better with a tan. I'd rather not look like leather when I'm older though, so I'm opting for the fake route. The product I'm in love with is the Clinique Self-Sun Touch of Bronze Moisturizing Body Lotion. It's the first thing I've tried that doesn't leave streaks on my skin, even when I don't apply it very carefully -- and with my crazed morning routine that's pretty often. It's not for faces though, so I'm currently on the look-out for a product that will help my head match my new bronzed body. (Do you have any suggestions?) In the meantime, bronzer is working pretty well.