Golden Globe Hairstyle How-Tos

Posted by Anna on January 18, 2011 at 03:50PM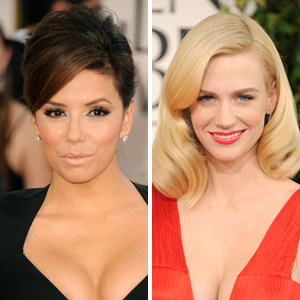 A mock Golden Globes acceptance speech for the best celebrity hairstyle seen on the red carpet this year:
"Wow, just WOW (insert heavy breathing) I can't belieeeeve this! I'm just so … unprepared. Luckily, I wrote this super long acceptance speech on a piece of folded paper I have tucked into my bra that really only lists the names of all my agents, managers and people I owe money to. Phew. OK, so first I would like to thank all those people blah blah, wa wa. I would also like to thank my shampoo and conditioner. You've always been there for me, in my driest, frizziest times (take this quiz to find the best shampoo and conditioner for your hair) and even after that brief stint in fried hair rehab. Love you guys. Also, my hairspray, you're the glue that really holds me together through all of this -- couldn't do it without you. Finally, my partner, my curling iron. We've been through a lot of twists and turns, pins and curls, but you still manage to get me hot every time."
I sadly will never get to make that speech. I will, however, give out my own little awards for the best hairstyles seen this year at the 2011 Golden Globes and share with you how to easily copy them. And the awards go to:
Mila Kunis for Best Modern French Twist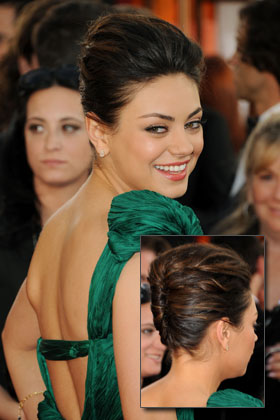 Celebrity hairstylist Mara Roszak shares how to recreate it yourself in a flash.
How-to:
Step 1: Spray a light-hold hairspray on damp hair and rough blow dry with your hands to add body.
Step 2: Section off top half of hair and spray a volumizing spray like TRESemmé 24 Hour Body Root Boost Spray, $8 to give lift at the crown.
Step 3: Blow dry the top section, and use a large barreled curling iron to add wave and texture to just the top section of hair.
Step 4: Pull the bottom section of hair back tightly and gather into a low pony without securing it. Start twisting the pony upward, starting at the nape of the neck, and insert pins in a crisscross pattern along the twist until you reach the top section of hair.
Step 5: Brush top section backward and tuck underneath French twist. Pin to secure.
Step 6: Set hair by misting it with a stronghold hairspray like John Frieda Luxurious Volume All Out Hold Hairspray, $6.99.
January Jones for Best Old Hollywood Glamour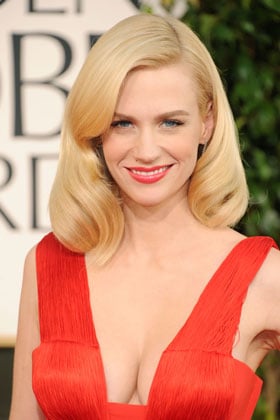 Celebrity hairstylist Renato Campora shares how he created this look with a "modern twist."
How-to:
Step 1: Working with wet hair, start by applying a volumizing mousse to your roots and smoothing cream like Frederic Fekkai Coiff Controle Ironless Straightening Balm, $25 from mid shaft to ends to create volume and smooth out your hair.
Step 2: Create a deep side part and blow dry hair using a large round brush.
Step 3: Set your hair in large hot rollers and let the look sit for 10 minutes. Once you release the hair from the rollers, brush through it to create volume and the seamless curled shape.
Step 4: Spritz a stronghold hairspray like TIGI Hard Head Hard Hold Hairspray, $15.99 all over for long-lasting hold.
Dianna Agron for Best Romantic Half-Updo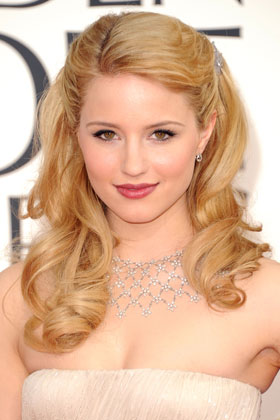 Danilo, hairstylist to the stars, shares how he created this flirty style.
How-to:
Step 1: Start by misting clean wet hair at the roots with a root lifting spray (try Ojon Plump and Hold Root Lifting Spray, $22).
Step 2: Blow dry your hair with a large round brush, then use a dollop of smoothing cream like Pantene Pro-V Restore Beautiful Lengths Smoothing Balm, $4.99 and coat three-inch sections of hair before curling with an iron.
Step 3: Using a medium-to-large barreled curling iron, curl hair under one three-inch section of hair at a time.
Step 4: Once all of your hair is curled and cool, brush through it to reveal voluminous waves. Lightly smooth a bit more cream through your waves, as needed, to tame any flyaways.
Step 5: Create a side part and smooth hair back on each side with your fingers, pinning back the hair above your ears.
Step 6: Finish by misting with flexible-hold hairspray.
Tina Fey for Best Curly Chignon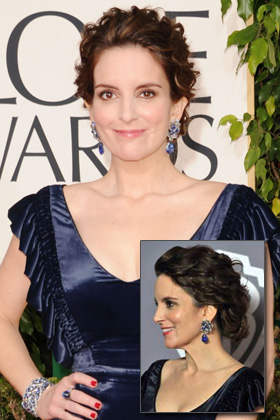 Here's how hairstylist Richard Marin, who created this perfect-for-a-swanky-night-out style, recommends recreating it.
How-to:
Step 1: Apply a texturizer or curl enhancing mousse to wet hair and blow dry strands using a diffuser attachment to enhance natural curl and wave patterns.
Step 2: Use a small three quarter-inch barrel iron like Remington Pearl Ceramic Professional Styling Wand, $29.99 to curl random sections of hair all over.
Step 3: Shake out curls, but don't brush them. Mist all over with flexible-hold hairspray.
Step 4: Using your fingers, rake hair back into a loose low ponytail. Twist into a loose bun at the nape of your neck and secure with bobby pins.
See the rest of the best Golden Globes hairstyles and how to copy them here.