Do Natural Products = Results?

Posted by Kristen on April 23, 2008 at 04:40PM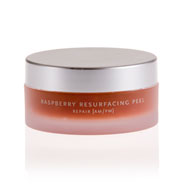 I had the chance to try out the beautiful, minimalist Arcona spa in Santa Monica, Calif., last week. Arcona is not only a spa but also a product line that boasts natural ingredients free of "petrochemicals, binders or fillers, chemical stabilizers, parabens, sodium lauryl sulphates, perfumes, dyes, or any other caustic, toxic ingredients." Though I'm all for avoiding products that contain potentially harmful ingredients, I'm still not totally sold on the idea that natural ingredients offer results equal to the ones I have been able to achieve with traditional products.
My experience with the Organic Enzyme Peel treatment at Arcona may have convinced me otherwise. Though facials can be relaxing and pampering, I tend to opt for services that offer more long-lasting results. I've tried microdermabrasion, glycolic peels, lactic acid peels -- you name it. So when it came time to pick a service at Arcona, I went with a facial that promised to "dissolve dead skin and cleanse pores," and leave my face glowing. When Debbi, my aesthetician, applied the peel during the facial, I didn't feel much, but when she applied steam to my enzyme-coated face, I could really feel it working.
Post-facial my skin was barely pink but it felt like fresh, new skin. The natural product actually gave me results similar to the non-natural peels I've tried. I was so happy with the results, I told the Arcona representatives that they should bottle that peel so I could get similar results at home. They actually do sell at-home enzyme-loaded peels, but they are much less concentrated than the one I experienced at the spa. I'm thinking that if I use it often, I might just be able to have glowing skin 24-7 without a spa visit. I'll try it and report back. Anyone else have tricks to extend their post-facial glow?