Lashes -- Every Girl's Secret Weapon

Posted by Kristen on April 30, 2008 at 04:54PM

I know I've mentioned it a few times in previous posts, but here I go again ... my sister is getting married in May. What this means is that I am officially heading up her hair and makeup committee. To kick off the process of hiring the perfect hair and makeup team for her big day, we had a few trials. I'll be sharing tidbits of these trials with you for the next couple of weeks.
The first bit I need to share revolves around lashes. We here at TotalBeauty.com are seriously lash-obsessed (check out Our Editors' Favorite Mascaras) so it only made sense that I took the lash portion of my sister's makeup trial very seriously. She has amazing lashes, but they're blonde so they need layer upon layer of mascara to show them off.

When Ginny King, makeup and brow artist from the Brau Haus in Pasadena, Calif., first applied mascara to my sister's lashes, she did so in a conservative manner (see the first photo above). My sister's lashes looked nice, but were nothing to write home about. We knew my sis would need to apply her own mascara to get the effect she usually does, so she whipped out her long-time favorite Lancome Definicils, and went to town (see the results in the second photo below).

Amazing, gorgeous lashes. But I, being the older sister and all, had to push it a step further. "What about adding false lashes to the outer corners," I asked Ginny. She loved the idea, but my sister gave me the look of death.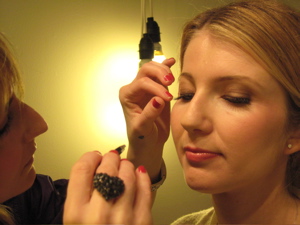 After much convincing, she went for it (see Ginny carefully applying the lashes in the photo above). It's a trial after all. Much to my sister's delight, she couldn't even feel the lashes Ginny had applied. And, hello! Check out the third and final look (below).

Lashes galore! They don't look cheesy or fake at all, just gorgeous, thick and flirty. My sister has decided to wear them on her big day and I am thrilled. I'm hoping that Ginny will apply them to my lashes that day too.
Have you ever worn false lashes to special event? Do you love them or what?