DIY Fix for Rough Feet

Posted by Sarah on May 29, 2008 at 04:46PM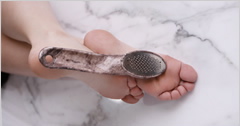 With warmer weather comes open-toed shoes and sandals and the need for us to get our feet back in shape. This past weekend it was pretty warm in Los Angeles, so I headed to the beach. My feet were looking pretty rough, so I did a little trick I've recently learned. I took damp sand and used it like a scrub to exfoliate my feet and elbows. It worked wonders and left my dry heels looking much smoother. Not near the beach? Try this file from Microplane. It's my go-to tool for getting rid of callused skin in the winter.