Do You Still Get Pedicures When It's Cold Outside?

Posted by Sarah on November 3, 2009 at 04:09PM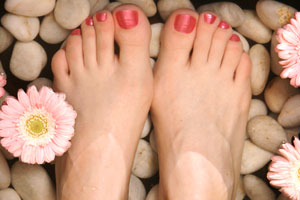 My feet are firmly encased in boots for the next couple months, but I still can't seem to give up pampering my toes. Even though I'm the only one who will see them, I still keep my feet in decent condition during the fall and winter.
One caveat though: During these chilly, closed-toe shoe months I'll usually skip the nail salon in favor of an at-home pedicure -- and with these tips, it's just like being at the salon, minus overwhelming smell of nail chemicals and $30 charge.
What's your opinion on this? Do you keep up regular pedicures even when no one will see your feet, or is it sayonara to polish until sandals make a comeback? And if you do polish, what winter colors are your favorites?
• Winter is no time to waste pricey polish on toes no one will see. Find cheaper alternatives to those must-have shades here.
• Toes are one thing, but winter is no excuse to let your hands look shoddy. Fix them up with these tricks.
• Guys getting pedicures!? Stranger things have happened (but not many).