Brow Guru Anastasia

Posted by Kristen on May 18, 2008 at 11:00AM


Our third stop along our beauty blogger tour of Los Angeles was at brow guru Anastasia's flagship studio in Beverly Hills (Anastasia is on TotalBeauty.com's expert panel, FYI). The bloggers were beyond thrilled at the chance to meet Anastasia and have her walk them through her signature method for shaping brows.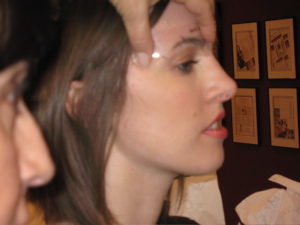 Her method includes using her branded stencil (see photo above of the stencil in action -- sorry for the slightly blurry picture), which has left many women I know (including Charli on our staff) a bit confused as to what to do with it exactly. What I decided while standing there watching Anastasia work her magic is that stencils are best used for filling in brows and maybe using them as a guide to make sure that you're not over tweezing areas of your brows that should be left alone. Otherwise changing the shape of your brows for good should be left to the pros in my opinion. Though I'm sure someone out there has created perfect brows using stencils at home, right? Have you mastered it? If so, please share your secrets with us and send pictures. I'd love to see them.
Another tip I picked up from watching Anastasia's process is that the longer your brow hair is the better because you can brush them upward and then trim them into a nice shape. Trimming really can change the whole shape of your brow if you have enough hair there to begin with. I like the idea of this again because you're not tweezing away hairs that might never grow back.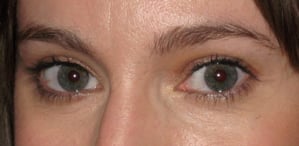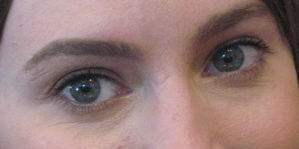 Check out the before and after photo of blogger Bella Sugar (only her right brow -- your left -- had been done at this point). She was pulled out of our group to be Anastasia's demonstration model. Don't her brows look amazing?