Best Tip I Learned Today

Posted by Kristen on July 8, 2008 at 05:36PM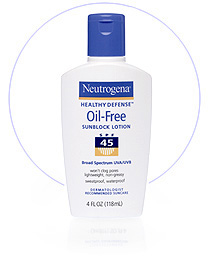 Heard this tip today from celebrity hairstylist Frank Friscioni (who has worked on Katherine Heigl and Renee Zellweger) and had to share. It's a smart one:
"Dab an oil-free sunscreen (like Neutrogena Healthy Defense Oil-Free Sunblock) in your hair to protect the color from oxidizing. Yes, the stuff you put on your face and body. Mix a bit of it with your usual hairstyling products! In fact, when you're done applying sunscreen at the beach, swipe whatever's left on your hands through your hair."