Are Wen Infomercials Telling the Truth?

Posted by Kristen on November 13, 2009 at 09:49AM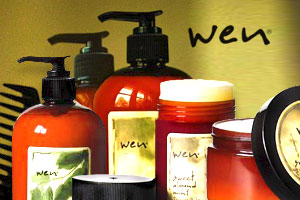 I tend to turn a blind eye to infomercials -- anything from a blade-less shaving razor (yeah, that sounds effective) to trading your gold for cash (they really expect you to mail in your jewelry on blind faith!?) sounds like a big four letter word to me. Yeah. S-C-A-M.
So when I caught the infomercial for Wen by Chaz Dean on TV, my immediate reaction was "Yeah, right." But when several friends brought up the brand (in separate conversations, mind you), I thought it would be worth it to do some digging.
Lucky for me, many TotalBeauty.com readers have no qualms over dialing in and handing over their credit card number, so I was able to find out their experiences. If you're one of the people wondering if Wen products really work, check out the best and worst of the brand below. Turns out, as-seen-on-tv products aren't all as bad as I thought …
TotalBeauty.com average reader rating: 5.9 (out of 10) 

Why: Readers say this product gives you "mediocre results for the money." Even after using the product as directed, there is "no noticeable change" in the look and feel of their hair, and one reader says it even dried it out more. "I could not do anything with my hair. It would not hold style or shape," she says. "It actually made my hair worse," says another reader. "I purposely washed with my regular shampoo [a week later] and saw a big difference." Several readers say, "the scent takes some getting used to" and label it as "hype" that is "not worth the price."
The Best: No. 6: Wen Tea Tree Cleansing Conditioner, $28
TotalBeauty.com average reader rating: 7.3 

Why it's great: This "amazing" product is perfect "if you have scalp issues," because it "takes away dandruff, cleanses and conditions hair, strengthens hair [and] moisturizes" all in one. "After several uses I felt for the first time in my life that my problem had been cured," raves one reader. "I can tell a noticeable difference in my hair's ability to maintain moisture." Another reader says it keeps her red hair beautiful and vibrant, and "the longer you use [it], the better your hair will look and you'll be amazed at the shine!" Readers love the "clean, tingly feeling" it leaves on the scalp, and the way it leaves them with "salon hair everyday!"
TotalBeauty.com average reader rating: 7.4 

Why it's great: "Wow, what a difference this product has made!" readers rave. "This stuff has some awesome moisture in it." One reader loves how her hair "had body, bounce, super-shine, and dried in about half the time." It left another reader's hair "wonderfully soft" and "easier to brush." Readers say while they found they needed to wash their hair less often with this product, it still left their hair "clean and manageable with no residue."
Still not convinced that it's worth the price? Check out these top drugstore hair products instead.
If you won this $10,000 Sephora Shopping Spree you'd never have to pay attention to infomercials again.
Scouring HSN and QVC is no way to do your holiday shopping. Get help for the task here.