Has Sammy Sosa Taken Skin Lightening Way Too Far?

Posted by Kristen on November 16, 2009 at 05:02PM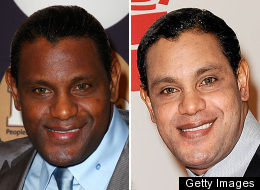 I'm sure you've seen these before and after shots of Sammy Sosa making the rounds on the Internet. Sosa claims that a product he uses to soften his skin is responsible for making it lighter as well.
I have to wonder about this. First, there are a million creams out there (like these) that will soften your skin without also bleaching it, so unless he has really limited access to skin care products (which I doubt), he's using the product to lighten his skin and the softening is more of a cover/bonus.
Skin bleaching has its place in beauty, be it for sun damage, acne scars or melasma, but Sosa has clearly gone far beyond this realm. Now there's even talk of him becoming a spokesperson for this mystery cream. I will say that however you feel about Sosa lightening his skin, you have to admit that the product gets results.
Got your own skin issues to deal with? I hear ya, get help for them here.