11 Cities that Boast Beautiful Hair Color

Posted by Kristen on May 19, 2010 at 04:47PM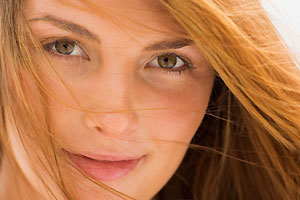 Always dreamed of packing it all up and moving to Fiji? Ahhh… well, while that move might be great for your psyche, it probably wouldn't work wonders on your hair color. Huh? Don't worry, you read that correctly, but you've probably just never thought that great hair color had anything to do with where you lived. Think again. Basing our ratings on factors like sun index, number of salons per capita and at-home hair color sales, we arrived at a list of the 11 Cities with the Best Hair Color. Intrigued? Let's see which thriving metropolis tops the chart …
(While you're at it, see whether YOUR city ranked as one of the best hair cities or one of the worst. You may also be interested to know how your stomping grounds stack up when it comes to ugly and hot guys!)
No. 11: Denver
The mile high city's salon-per-capita ratio is excellent and the fact that it doesn't get much sun (which contributes to fading) helps place it at no. 11 on our list.
See why Denver is also one of the top hair cities in the nation.
No. 10: Honolulu
Add "great hair color" to the super-long list of good reasons to live in Honolulu. Sure, the sun and surf bestow natural highlights on all the beach bunnies and surfer dudes, but it's also the vast array of salons that helped Honolulu make our list.
Of course, you don't want to hit the sun with out blocking out its harmful rays. Take this quiz to discover your ideal sunscreen match.
No. 9: San Diego
Sunny San Diego boasts a booming salon business as well as super-high sales of at-home kits. Maybe everyone's trying to be a "California Girl."
Psst. If you overdo it in the sun, here are the top 10 ways to repair hair from summer damage.
No. 8: Miami
If it's good enough for the Kardashian sisters and, soon, Snooki, Miami is good enough for the legions of hair color fans that live there. South Beach is home to loads of great salons and has seen a spike in at-home color sales.
Think that's what makes it one of the country's most vain cities?
Want to know which U.S. cities topped the list for greatest hair color? Seven more to go till you get to no. 1.
• Does all of this info have you considering a move? Not so fast. You may want to check out this list of 10 cities with the most cellulite or peruse the 13 worst skin cities before you pack your bags.
• Of course, you can always just stay where you are, as long as you follow great hair care and skin care tips like these.
• Want in on a little beauty discount secret? See how to get great deals and offers on beauty products here.
• Keep up with the latest in beauty -- follow us on Twitter, add us on YouTube and friend us on Facebook.