What Eyeshadow Shade Should You Be Wearing?
Take this quiz to find the eye makeup that'll perfectly accentuate your big blues, browns or greens
If the eyes are in fact the windows to our soul, we want them to be accented in the most flattering way possible, right? But … we're creatures of beauty habit and can easily get a bit lazy and fall into a make up rut. Sometimes we need a nudge to try something new and then suddenly we're like, "Why didn't I try this sooner?!"

Well, we got a little help from our friend Carol Shaw -- celebrity makeup artist and creator of makeup line LORAC, which brings red-carpet glamour into the hands of real women like us. She lent us her expertise so that we could create this quiz that'll point you to your best eye makeup shade. Based on the questions we ask you -- such as your eye color, celeb makeup icon and makeup style -- these quiz results will yield the eyeshadow shade you should be wearing. Plus we offer up both a matte and shimmer product suggestion to make your next makeup-shopping trip a breeze.

The cool thing about eye makeup products today, is that there are all sorts of eyeshadow tools -- from powders to creams -- to suit your needs. Plus, we've noticed that smoky eye makeup is no longer limited to just grays, charcoals, silvers, etc. -- now you can create that sultry look using the color that best suits you, whether it's blue, purple or an earthy tone. Once you discover your most fab eyeshadow shade, Shaw has a tip for you: The key to eyeshadow is … blending. So whether you use your finger, makeup brushes or a sponge, make sure to blend it well.
Your Results
What Eyeshadow Shade Should You Be Wearing?
You should wear shades from the blue family like navy, teal or midnight blue. Shaw says that blue eyeshadow will bring out the blue in your eyes. Visually, the cool tones in the shadow work with the coolness of blue eyes. If you try a darker blue eyeshadow, the depth of the shade will make your eye color pop.

Try a matte eyeshadow like MAC Eye Shadow in Plumage, $14.50 or a shimmery option like Bobbi Brown Shimmer Wash Eye Shadow in Sapphire, $20.

Not feeling blue (eyeshadow, that is)? Try a classic smoky eye using silvers, grays or charcoals. These shades look great on all eye colors, but are especially striking on blue eyes because the icy tones will enhance your cool eye color.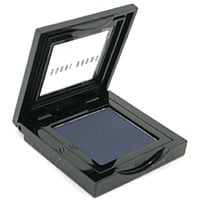 -->