How You Can Wear Spring's Prettiest Nail Polishes

Posted 03/03/11 at 05:49PM by Audrey Fine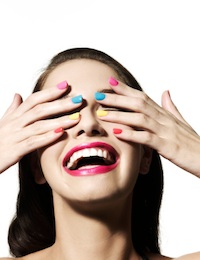 When it comes to beauty, it's one thing to glom on to a color simply because it's "en vogue" and it's another to choose one that actually works with your skin tone. (Hint: The latter is a much better way to go about it.)
For spring, there are a lot of pretty, creamy pastels to choose from (think robin's egg blue, peaches 'n cream,
gray/silver
) and some edgier, moodier ones too, but not all of these shades are going to look good on everyone.
Here are some tips for choosing a color that's both trendy
and
flattering with your complexion.
Fair skin
: The most flattering shades for fair skin tones are reds and pinks (in bright or soft shades) and any color found on the spectrum between the two. If you're
really
pale, you may want to stay away from super dark colors (the gunmetal grays and dark purples) and opt instead for lighter hues like barely there lavender shimmers (like
CND Colour & Effects in Amethyst Sparkle
, $11) or a pop of poppy color (try
CND Colour Effects in Smoochie
, $9).
Medium skin
: Help flatter your medium skin tone by wearing bold colors. You can pull off vibrant hues like Tiffany blue (try
Sally Hansen Hard as Nails Xtreme Wear in Blizzard Blue
, $2.99) or oranges -- bright or muted ones -- (try
Essie Nail Polish, in Capri
,$8).
Dark skin
: When you have dark or tan skin, you can pretty much get away with any shade you fancy. Bright shades really benefit from being shown against a darker canvas and light shades look pretty by contrast. Two hot colors to try this season are
Dior Vernis Long-Wearing Nail Lacquer in Pink Boa
, $21 or
Estee Lauder Pure Color Nail Lacquer in Purple Passion
, $19.
Is there a color that you've been itching to try? What about other trends like the
modern hair twist
,
bold brows
or
long lower lashes
?

Our Expert Guides