Long Lower Lashes -- Will the Celeb Trend Jump to the Mainstream?

Posted 01/25/11 at 02:12PM by Audrey Fine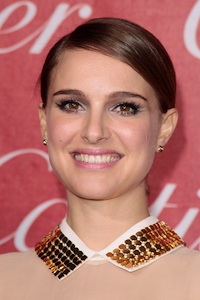 Jennifer Aniston's wearing them on the pages of ALLURE, Natalie Portman sported them at the Palm Springs Film Festival, and, Kim Kardashian's been a fan for a while now. Long lower lashes are trending in Hollywood, girls -- but would you wear them in real life?
Since the days of Twiggy, experts have been quick to caution against wearing mascara on the lower lashes because it can be both hard to keep it from smudging and can create an unflattering shadow under your eyes. But, now, with the celeb endorsements, the look may very well catch on and, coinkinky-dink, there just happen to be several "lower lash" mascaras on the market (like
Clinique Bottom Lash Mascara
, $10 and
Tarte Bottoms Up Lower Lash Mascara
, $16 that are poised to ride the popularity wave.
Want to jump on the bandwagon? Here are 4 tips for getting gorgeous lower lashes:
Step 1
: Because you want to avoid the darkness that comes from coating the lower lashes, be sure to apply a concealer or eye brightener to the delicate skin below the eyes to counteract the shadows.
Step 2
: Even if you use black mascara on your top lashes, opt for brown on your lower ones. It is much less harsh and will look better.
Step 3
: Blot excess mascara off your wand -- this will help keep things glop-free.
Step 4
: Always hold your wand vertically when applying mascara to the lower lashes -- this will help to give you better control and allow you to distribute only as much product as desired onto each individual lash.
Not hankering to try this trend anytime soon? Or, do you prefer a more natural appearance? Consult the
natural beauty look book
for surprisingly wearable celebrity hair and makeup looks.

Our Expert Guides