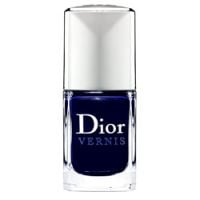 #659 Lucky perfect pink/red/coral

I had heard good things about the Dior nail varnishes and after searching so long for a redish pink coral color and consistently coming up short, I found #659 "Lucky". This polish costs slightly less than Chanel and in my opinion, it is so much better! The Chanel polish I have (the much raved about color, "June") is a nightmare to apply because it is so sheer and streaky. Dior's "Lucky" applied...read more like a dream. I got a perfectly opaque color after two thin coats and with a good base and top coat, my manicure lasted nearly a week. The color itself is gorgeous and just what I wanted. In some lights it looks red, in others, an orange red, in others a pinky coral. It's a fun play on the classic red or the super bright coral. It just looks really classy and fun on the nails. The brushes on the Dior polishes are different and really user friendly. They are short, stout and slightly curved to fit the base of your nail. The brush made application even easier than normal. The nail polish formula is gorgeous. No streaks and no uneven application. The bottle is quite chic and I like that (again, unlike the Chanel polishes) the square top is removable so you have more control when handling the nail brush. Dior polishes are still quite pricey and I won't make a habit of buying up a ton, but if there is a particular color that I am after and not able to find in the other lines I like, I will look to Dior.

The coolest color

I love this color! I always get asked about this nail color when I use it, mainly to go out at night. It's all about Dior nail colors!

You're Paying for the Name

I bought Dior's deepest purple because it was beautiful in the bottle. However, on my nails, it just looked like black. The polish didn't wear any better than less expensive brands, so I knew I was just paying to have a bottle in my bag that said "Dior". I have enough expensive cosmetics that I don't need overpriced nail polish. If the color is TRULY one-of-a-kind, then, yes, I can't resist. But this wasn't it. I took it back and got something else at Neiman's.

Back
to top