Finally...A Nail Color Trend I Like!

Posted 02/08/11 at 01:43PM by Audrey Fine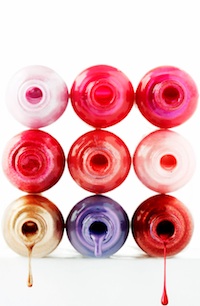 I've not been shy about my disdain for the last couple of waves of "in" nail colors. Blue nails, IMHO, are for Smurfs. Deep purple? Elvira. And, don't even get me started on OPI's green-hued
Cuckoo for Color
-type shades. (I know, I know, I'm
so
in the minority here, most people love them -- maybe I just like being difficult. My mother certainly seems to think so.)
Just when I was starting to feel like a certifiable nail polish Grinch, came the slew of grays, slates and silvers that I just adore. Whether it's a full-on opaque silver like
Priti NYC in Old Man Cactus
, $12.50, a charcoal gray like
Sephora by OPI in Break a Leg-Warmer
, $9.50 or, my new must-wear-this-on-fingers-and-toes-NOW fave,
Jessica Custom Nail Colour in Coquette
$7.50 -- it's just the right combo of sparkly iridescence added to a vaguely lilac-y gray base that makes me smile when I look down at my hands (and feet).
What about you? Have a particular color that you're loving this season? Which shade are you going to showcase in sandals (if it ever stops snowing)? And, speaking of trends, how're you feeling about the whole
long lower lashes
fad?

Our Expert Guides