Why I Hope Taylor Swift is Setting an Example for Other Young Stars

Posted 01/06/11 at 02:59PM by Audrey Fine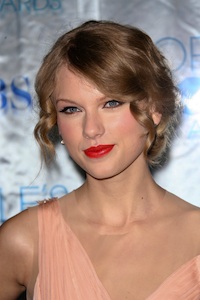 One look at Taylor Momsen or Miley Cyrus or any of those former "good girls gone bad" makes me shudder in my mom boots. What kind of examples are those "stars" setting for our daughters? The dumbing down and tarting up of young American girls has got to stop. That's my soapbox and I'm planted firmly atop it for at least the next 10 years. Bratz Dolls be damned!
That's why, particularly as a mom, it's nice to see that
some
of today's young celebrities can dress and act in appropriate ways. Take that Selena Gomez, she of Disney's "Waverly Place" and kissing Justin Bieber fame -- she could easily have embarked on the wayward route so many before her have traversed but, no, she always looks respectable, behaves well on screen and off and sets a good example. Likewise her best friend, Taylor Swift. Sure she calls out her old boyfriends' bad behaviors in her lyrics, but so what? She's well behaved, polite, you never see paparazzi pictures of her stumbling out of a nightclub and, man, can she do a designer proud.
Just take last night as an example. Even though she could've been home dripping tears onto her guitar over her recent
break up with Jake Gyllenhaal
, the 21-year-old Tennessee native went to the People's Choice Awards with her little brother. And guess what? She won the statue for Favorite Country Artist and took to the stage to accept her award from Johnny Depp (lucky!) wearing a stunning asymmetrical J. Mendel gown in super-flattering peach silk chiffon. (Evidently Natalie Portman wore the same one on the cover of this month's issue of "Vogue." Shhh.) Her long hair was worn up, with pretty tendrils framing a naturally made-up face with just a pop of color on her lips (courtesy of
CoverGirl Lip Perfection Lipstick in Flame
, $6.49, or so I hear.)
But, the night wasn't over because, then, she slipped into a little black beaded number by Mark & James and headed on over to the CoverGirl 50th Birthday bash in West Hollywood to hang with all the other faces of the brand including: Ellen DeGeneres, PCA host Queen Latifah, and Drew Barrymore.
How'd she end the evening? By throwing up in the back of some limo? Nah. By expressing her gratitude. "Thank you SO much for the Peoples Choice Award! It's sitting here all sparkly in my hotel room. I love you guys," she tweeted before hitting the hay. (I read that somewhere, I'm not
that
much of a stalker.) And, THAT my friends, is how young starlet types
should
act. They should be lovely, and gracious and act appropriately just as we'd want our
own
daughters to, right?
What's your take on the more brassy, rambunctious stars of today? Do you think I'm too puritanical in my views? I mean, wouldn't you rather emulate (and have your kid do too)
Blake Lively's look
and comportment than some of those other girls'? Just asking...

Our Expert Guides