Expert Q&A: Your Top 5 Winter Makeup Questions Answered

Posted 01/07/11 at 09:52AM by Audrey Fine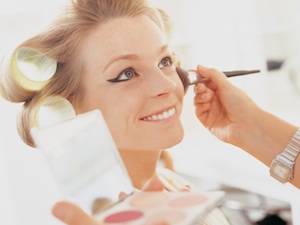 Wouldn't it be fun to have your own personal makeup artist to bounce ideas off of and get expert tips from? While we can't provide each reader with one, we
can
get a pro to answer some of your questions -- which is exactly what we've done here.
Makeup expert Chantal Moore, who's worked on some of Hollywood's most beautiful faces including Kristen Bell, AnnaLynne McCord and Jennifer Garner, has responded to five of your most pressing winter beauty queries. Read on to see what some of the season's hottest trends are and how to get them.
Question:
"What is your favorite 'winter nights' look?" -- Sinrod A
Answer:
"A classic winter night look is a red lip paired with a lined eye. It's a simple way to glam your makeup parties and events.
Start by lining the upper lid with pencil and then go over that line with a dark brown or black shadow. Blend the edges. Add liquid liner on top of it, if you desire. You can either leave the bottom lash line bare or blend shadow into it.
With a red lip it's important to remember that less is more everywhere else on the face. Curl the lashes and apply several coats of a volumizing black mascara to top lashes and tap the bottom lashes with the wand, working the mascara in closest to the root. You can even add individual [false] lashes to the upper outside lash line to add more dimension and lift to the eye. A fresh, soft cheek color complements this look.
Apply a tone of red lipstick or lip stain that
works the best with your skin tone
and you are ready to go. There is a red for everyone out there and several tones and textures to choose from these days -- have fun with it. For staying power, apply a lip liner around the shape of your lip, and work the lip liner into your lip to add dimension prior to applying the lipstick."
Question:
"What is the best way to have a bronzed look without being too bronzed for winter?" -- Cynthia T
Answer:
"Strategically placed powder bronzer can be used to brighten and warm up your face all year round. The key is to choose a bronzer that is not too red and does not contain too much shimmer. You can sweep the bronzer lightly across your forehead, across your eyelids and browbones, down the sides of your face, and bring the brush in to contour your jawline. Don't forget your neck and chest area. Having a light hand is key. You can layer more color if you want to go darker. A light sweep of bronzer as eyeshadow is also a quick and versatile way to pop your eyes, and a great base for further shadow application. You can also layer more bronzer over the apple of the cheek as a 'blush booster' before layering a lighter pop of color on top."
Question:
"I am completely fair and get super dry skin in the winter. I do my best to moisturize, but my makeup still seems to look dry and flaky. What types of cosmetics should I opt for to get additional hydrating benefits? I was thinking more creamy-type products but want a professional's opinion." -- Lora N
Answer:
"In addition to the moisturizer you are already applying (which hopefully you are doing fresh out of the shower while skin is still moist, for added benefit) you might want to try a tinted moisturizer if you don't need a lot of coverage. It might seem like overkill, but if you look at the initial application of moisture as a 'treatment skin prep' and take care to massage it in well with the intent to seal in moisture and ready your skin for the next step, it makes sense. Many tinted moisturizers have great coverage and provide an excellent canvas for the concealer work to follow. If you need more coverage than a tinted moisturizer, try a moisture rich cream foundation that gives you the best of both worlds."
Question:
I have been seeing various shades of blue eyeshadow on models. I asked about blue shadow at an upscale cosmetic counter and the clerk looked at me like I have three eyes. Should I buy a soft blue eyeshadow for winter?" -- Karen M
Answer:
For winter, try a rich, deep, navy blue that has a hint of iridescence to it. You can use it in so many ways. You can use it as a liner, you can blend it out to create the perfect smokey eye, and you can even use it over your neutral shades to add a pop of color. It's a color that wears well with every eye color."
Question:
"How can I tone down winter redness without looking too pale as a result?" -- Michelle M
Answer:
"For extreme winter redness, consider a green foundation primer or green corrective concealer. Green cancels red and there are many green-toned color correcting concealers out on the market. Dab it on sparingly using your ring finger, [and] apply only on the areas you need it most, blending well."
Have winter skin concerns? We talked to a leading dermatologist and she
answered readers most pressing questions
.

Our Expert Guides