Taylor Swift and Jake Gyllenhaal Have Broken Up
Posted on January 4, 2011, 3:04 PM
After less than two months as a rumored couple, the tabloid darling pair have called it quits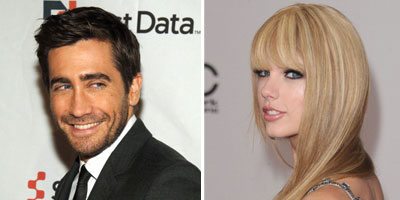 Taylor Swift and Jake Gyllenhaal Have Broken Up
If Jake Gyllenhaal did anything to break Taylor Swift's heart we'll surely hear about it on her next CD but for the time being we'll have to go with what a source is telling PEOPLE.com about the famous couple's recent split.
"They're over," says the source who adds that the relationship ended last month. Considering the fact that they were first spotted "canoodling" over
Thanksgiving in both Brooklyn, NY and Swift's native Tennessee
, the pair couldn't have been together long but that doesn't mean that fans (and tabloid editors) couldn't dream that they'd stay together longer than a couple of weeks.
Could the break up have been caused by Reese Witherspoon's December 28th
engagement announcement
? Could Gyllenhaal still be harboring feelings for his ex who's now set to walk down the aisle with agent Jim Toth?
For now all we know is that Gyllenhall didn't help Swift (she of the often copied
wavy hairstyle
)celebrate her 21st birthday on December 13th and that they weren't together on New Year's Eve either.
What do you think caused the split? Could it have been the nearly 10 year age difference? Scheduling conflicts? Different interests? What say you?