How to Copy Rachel McAdams' Cannes Film Festival Makeup Look

Posted 05/16/11 at 03:03PM by Audrey Fine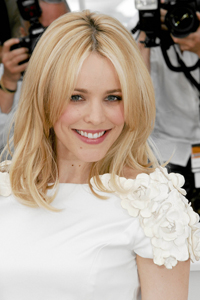 The summer I was 15 my family did a house exchange. We swapped our home in the Hamptons for one in Nice, France and it was awesome. We spent a ton of time on the Cote D'Azur, visiting Monaco, Juan les Pins and, sigh, Cannes.
Cannes was heaven to me. Beautiful scenery, beautiful people, just nothing but beauty abounding everywhere there. I'm sad to say that I've never been back, but every year when the Cannes Film Festival happens I get a vicarious thrill at seeing both the stars on the red carpet
and
the location.
So far this year, Rachel McAdams' look at the photo call for her new Woody Allen movie, "Midnight in Paris," has been my favorite of the festival. She fits right in at Cannes -- beauty all the way.
Here's how, according to her makeup artist Kayleen McAdams (yes, they're sisters), she got the look:
The inspiration was to play up the "youthful and fun" Maxine Simoens dress with a "bright fun lip."
Step 1
: "I used
Cle de Peau Silky Cream Foundation
, $120, (or, try
CoverGirl NatureLuxe Silk Foundation
, $10) all over as a base and
Amazing Cosmetics Concealer
, $28, in a few areas to help create a flawless complexion. And I finished the face with
MAC Blot Powder/Pressed
, $23, for a matte effect."
Step 2
: "On her brows I used
Anastasia Brow Powder Duo
, $22."
Step 3
: "On Rachel's eyes I used
NARS Duo Eyeshadow in silk road
, $33, a duo of beautiful pink and rose gold shades. Mascara was
CoverGirl LashBlast Fusion in very black
, $8, to make her eyes pop."
Step 4
: "I used
NARS Blush in Mata Hari
, $30, for a bright pink, rosy cheek."
Step 5
: "Finally, we wanted the lip to be the focus of the look so we chose
Stila Convertible Color in Fuchsia
, $24, a fun, bright pink lip stain." (Try
CoverGirl LipPerfection
, in Eternal, $6)
And, there you have it. Beautiful, right? (And how fun to have your very own sister do your makeup so well!)
Want to know the secret for applying
perfect eyeliner every time?
Watch this video.

Our Expert Guides