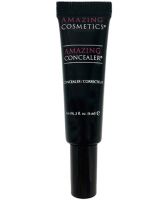 Found the exact dupe at the drugstore....

This is exactly the same thing as the Hard Candy Glamouflage concealer AND you only pay like $6 for the Hard Candy one. $40 for this tube! Luckily I got it for only $29 but still. Don't get me wrong. The tube will last a long time since you only need a little bit to conceal your imperfections. This covers everything. Just be sure to set it with a powder on top because it will transfer. I don't rea...read morech for this often and had to return it because for the price I'm expecting something stellar. It is too greasy and even though I love the heavy coverage on this I don't want it to feel heavy too. Bummer. The saleslady at Ulta said they were discontinuing carrying this brand in stores and that's probably why they're discounting all the products. Try it out while you can but this was a miss for me.

Pancake Make Up...Stay In Hollywood

This was waaaaaay too cakey under my eyes. At first I thought it was doing a good job ...yes, it was a little bit thick but it really evened everything out. And then I saw PICTURES of me...OMG, it was horrible...it really looked this like my eyes were swollen or that I definitely had concealer on. I went back and tried the "correct" color but even the associate at sephora said that this was a heav...read morey duty concealer that I definitely didn't need under my eyes. This looked so horrible in pictures so I guess I can just suggest using it if you will be on TV? To thick, too dry, too cakey...And if you think you will put any kind of make up over it..then good look. Not a good look. Kind of like oil paint.

Overall okay, needs better shade range

This product worked well as far as coverage, staying power and being water proof. It works well with oily skin, too. My problem with this product is that even the lightest shade was too dark for my fair skin. In daylight this did not look very good. If you are not very pale this concealer is a good one to buy.

Back
to top