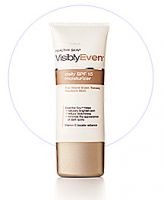 mmm

i really like this alot! its not greasy but not drying. perfect under makeup and never breaks me out

not for sensitive skin

I'm not sure how well this works because after just a few days my face turned red and burned like fire. Then, after I discontinued use, my skin didn't go back to normal until the irritated skin peeled off - yuck.

Gives what it promises.

I had to use a daily moisturizer because I was suffering from hyperpigmentation and a dermatologist informed me that my skin is completely dry because I never use a moisturizer. I couldn't, everything made me break out. Until I found this one, after 2 days of using it pple asked me if I had done something to my face since it looks so soft. The dark spots are also lightening up but it takes a bit s...read moreince I neglected to moisturize my skin for a long time. My skin is not breaking out and I can easily apply make-up over it. Neutrogena tends to change their products a lot, I do hope they will not D/C this one, I'll be lost without it. I use the SPF 30 because of my fair skin.
Back
to top