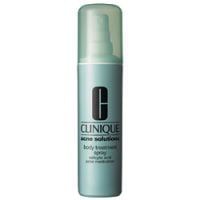 Cant live without!

I can not go with out this product in my cabinet ! This is must for warmer weather if you have body acne. The bottle sprays well upside down too, for hard to reach places, and dries quickly. And works very fast on body acne.

It made my day! =)

I went to re-stock my anti-blemish products which I bumped in to this body treatment body spray. I'm very glad that I asked the promoter about this because I'm not longer suffer any acne problems around my neck area and my back too. I do really adore Clinique acne solutions for body and even for my face with the anti-blemish solutions. They work well on me, I guess. Anyway besides using this body ...read moretreatment spray, I think eating healthy and drink plenty of waters is the best way to stay fits and healthy because we can't always rely on product. It helps but not 100%. So to make sure acnes stay away from body, do eat healthy and use this body treatment spray regularly if only it suits you. Stop using if its not. See reviews on this product from the other brands, it helps you to get the right one. Anyway, it lasts quite awhile for me, I haven't finish using mine yet though I bought it long time ago. Haha. I will consider this as affordable. It's just a simple body spray with soft and natural colour on the bottle. Lovely lovely!!

Exclusively from the editors at Total Beauty

Get the Buying Guide to see these top-rated products!

Get it now »

Prevents future blemishes from forming

works well and prevented future breakouts on my back and shoulders. Does have a sticky feel when applied and needs to be rubbed in when sprayed on. Overall I would buy this product again and recommend it for anyone with backne problems.
Back
to top