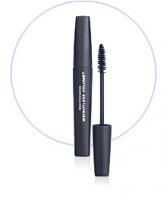 Editor's Rating & Review
Weightless, yes. Volume? Not so much. If you're looking for a lightweight layer of color and a natural look, this formula manages to separate, coat and condition lashes without clumping or stiffness. But because it's wax-free, you lose the thickening power of competitors, so don't waste your cash if you want high volume -- which you clearly do if you're buying mascara with "volume" in its name. On the upside: We found it safe for contact wearers.
Reviewed by the Total Beauty editorial team on 09/25/2007

How we review products
Worst I have tried

I thought this would be great being wax-free. Wrong. It applied beautifully and left me with pretty and thick lashes, but between the time I left my house and arrived at work fifteen minutes later, this mascara had melted in the Georgia heat. I had the worst mascara rings around my eyes (which I didn't know until my BOSS saw me). It came off easily, but I was left with no mascara on my lashes. ...read moreI was really hoping this would be a great summer alternative to regular mascara, but it performed even worse than nonwaterproof mascara. Maybe in a colder climate??? Three stars because prior to meltdown I loved my lashes...

Its Okay...

This mascara is great for someone who wants very little enhancement in their lashes. This is good for giving a little extra length but nothing too noticeable. It doesn't really give much volume but it does darken your lashes and it doesn't flake. This is a very good natural mascara but I'm just looking for a little something more.

Not the best

I love Neutagena products, but this mascara was really disappointing. It was clumpy, smeared and didn't last. When you first put it on, it looks good but it got clumpy within a couple of days. I wouldn't try it again. I'll watch to see if Neutragena develops a better product though, because I trust their quality, and I realize they are new to the makeup game.
Back
to top